2012 PRO Award Winner: Civic Entertainment Group, 30Sixty for HISTORY
Despite being a ratings success, "Swamp People" – which follows native Louisiana Cajuns during their 30-day alligator hunting season – wasn't generating much buzz. HISTORY's consumer insights showed that fans who love the series treated it as a guilty pleasure. For Season 3, the channel needed to break out the series with viewers and raise consumer perception of the HISTORY brand.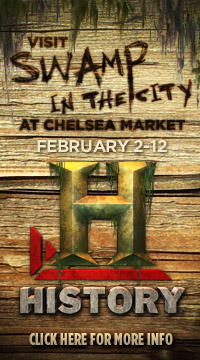 For the Season 3 premiere, HISTORY sought to celebrate the show and culture in ways that encouraged viewers to openly enjoy and share their "Swamp" obsession. Specifically, HISTORY wanted to increase viewership and elevate the show and the cast into pop culture by generating buzz among New Yorkers, garnering local and national media coverage and positioning the HISTORY brand as fun and contemporary.
Marketing tapped into the series' characters to communicate the show's relatability and its relevance to American traditions. The Super Bowl provided the ideal setting for a national ad conveying the importance of the Swamp People's heritage. Since it was HISTORY's first national airing in the sporting event, the Swamp People buy generated pregame and postgame coverage, building significant buzz.
Following its Super Bowl media drop, HISTORY and agencies Civic Entertainment Group and 30Sixty created a "Swamp in the City" experience in a 5,600 sq. ft. space in Chelsea Market. The event featured live alligators, turtles, cypress trees, indigenous plants and 8,000 gallons of water.
A partnership with the state of Louisiana was brokered and the state's lieutenant governor along with native artisans, musicians, a naturalist and a Cajun chef joined cast members in New York City for the 11-day event. Visitors could meet the cast, sample free authentic Cajun cuisine, hear live music and enter to win an all-expense paid trip to Louisiana.
HISTORY's Season 3 "Swamp People" campaign resulted in a passionate, positive dialogue among viewers and media, from praise of the series' creative to earned media. The Swamp in the City promotion drew tens of thousands of visitors and more than 100 million impressions.
As a result, viewership of season 3's premiere increased 20% over Season 2. HISTORY's Super Bowl spot helped to generate an average of 4.7 million viewers per episode since it aired. And as a result of this and other promotions, HISTORY has become the No. 1 Entertainment Network for men year-to-date.