10 Pillars for SEO Success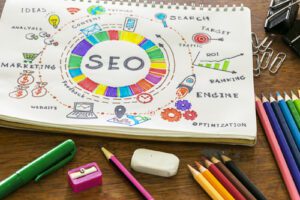 A good SEO strategy shouldn't just be the mission of the SEO team: it should be the mission of the entire organization.
"SEO influences everything in the organization, but too often, the SEO team are only ones responsible for SEO," says Jessica Bowman, founder of SEOinhouse.com. "The SEO team doesn't control all the levers needed to improve SEO, and other teams don't know how or when to work with the SEO team."
At MarTech East in Boston, Bowman shared 10 pillars to consider for search success, and ideas for making everyone in an organization accountable for SEO.
1 – Crawling and Indexing: Start off with the basics: Is the site SEO friendly? Are the right number of URLs being indexed to optimize search?
2- Content: Content on your site should be relevant for what people are searching for, in tune with authoritative conversation on the topic, says Bowman. Does it contain the right buzzwords to be found? Content needs to be crafted with smart devices and voice search in mind. Remember to write for things like Google's Rich Snippets and "people also ask" questions. "All of these things need to be in the SEO conversation," she notes.
3- Internal Links:  For big brands with lots of webpages, this can have a significant impact on SEO, so make sure you are linking relevantly and often within your site.
4- External Links and Mentions: This can be one of the influential pillars when it comes to improving your search ranking, says Bowman. Work on increasing the number of links and mentions on sites where your audience is frequently present.
---
You May Also Enjoy:
---
5- Social Media Activity: Here, it isn't so much the actual tweets or posts that will make the SEO impact, she says. Rather, it's the halo effect of those posts—will they engage people and lead to external links?
6- User Experience: Companies often think about the user experience of their website, but they don't often don't pay enough attention to search user experience. Study the path of searching not only for your brand but that of competitors in your space.
7- SEO Team: Is your SEO  team empowered to reach out and encourage folks from other parts of the organization to improve the SEO experience.
8-Non SEO Teams: Involvement should be encouraged throughout every facet of the organization. "Everyone needs to be doing SEO," she says.
9- Processes: Consider how SEO can fit into your workflow and annual strategic planning, says Bowman. "SEO data is a huge opportunity but not many companies are using it for big picture planning."
10- Metrics: Most companies have metrics on what has already happened, but SEO data can also be leveraged to consider future patterns and behavior, and help editorial teams consider what content audiences want to see in the coming months.