Zenni Hits the Road Post-Pandemic With OOH Marketing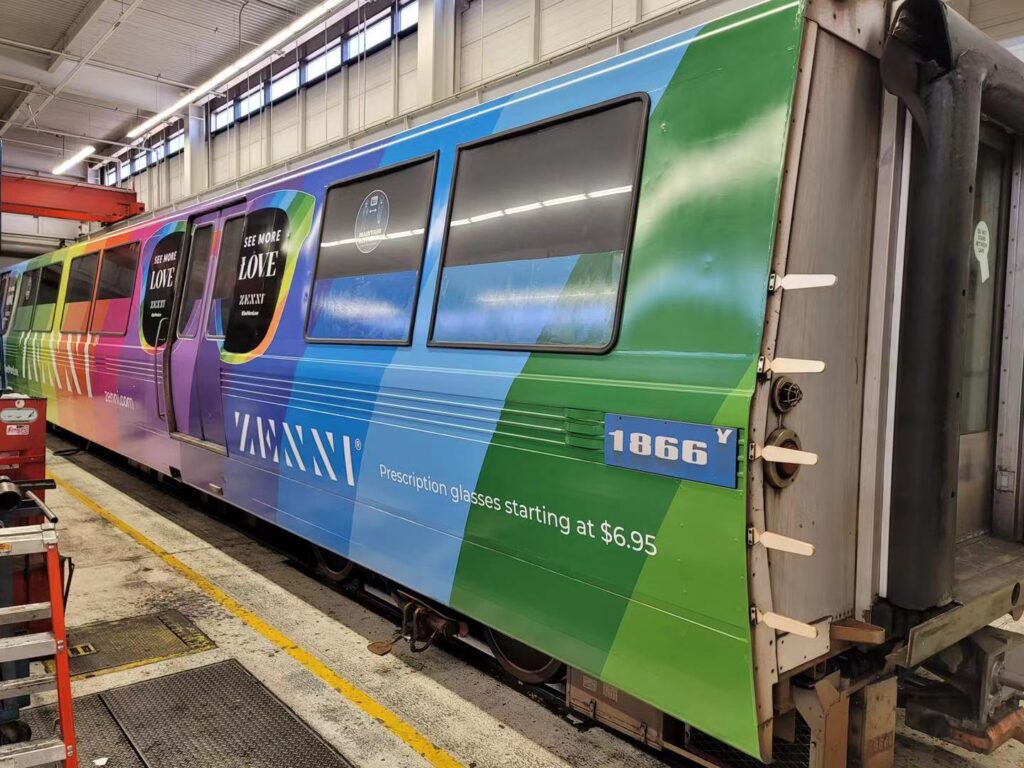 When DTC eyewear company Zenni began investing in brand marketing in 2018, 15 years after its launch, it focused largely on two media: in-flight magazines and billboards. Then COVID-19 hit. The number of people flying plummeted, and most airlines stopped distributing in-flight magazines.
"We lost a major weapon there," says Sean Pate, Zenni's Brand Marketing and Communications Officer. "Prior to the pandemic you probably couldn't have taken a flight and not seen Zenni in a big way. We were hitting tens of millions of people at a reasonable CPM," with cover ads and spreads. Likewise, foot and automobile traffic plunged, drastically reducing the number of people viewing billboards.
The de facto loss of two of its major branding tools didn't hurt Zenni's sales in the short term—Pate says the company sold about seven million pairs of glasses last year, and revenue for 2020 was up about 30 percent from the previous year. As a digital-native brand, Zenni has been marketing online from the beginning. "But no matter how efficient your marketing is with digital channels that pay you back tomorrow what you paid today, you can't build a brand that way," Pate says. That's why Zenni is investing in OOH marketing once again.
The brand began introducing new billboards late last year, as traffic began increasing. In fact, decreased demand and pricing for OOH advertising made some options affordable for the first time. "We just finished a three-month run in Times Square, something we would never have invested in given the costs in a normal world," Pate says. Zenni varied the videos that ran on the double billboard; to create awareness beyond downtown Manhattan, it encouraged its social media followers to post a photo of themselves with #ZenniStateofMind for a chance to have those photos displayed over Times Square. It also used the billboard to inform passersby that its anti-fog lenses were especially useful when wearing masks.
Other OOH opportunities Zenni is taking advantage of include billboards at the entrance to New York's JFK Airport and in Boston's Kenmore Square, just a stone's throw from Fenway Park. The company also recently unveiled a Bay Area Rapid Transit (BART) train wrap. And it's testing secondary markets, beginning with Atlanta.
"Going into markets where we're devoid of really anything else in terms of marketing other than what you're going to see digitally will give us a baseline of the effectiveness," Pate says. "We're also looking into triangulating mobile to see how many people were within a certain distance of a billboard and compare that with purchases."
In addition, Zenni is hitting the road again with its pop-up store. It used to bring the mobile shop with its hundreds of eyeglass frames to musical festivals and fairs around the country. While maybe a thousand people would come by each day, rather than the thousands who might be served a digital ad, the pop-up "presented those touching and physical moments we're typically void of because of our direct-to-consumer model," Pate says. The company plans to bring its store to September's Life Is Beautiful Music & Art Festival in Las Vegas—in previous years, the brand's most successful such event—then to the Texas State Fair and Country Thunder Arizona, with more festivals to come, Delta variant permitting.
The brand will no doubt use those events to spotlight its newest brand ambassador, three-time Call of Duty League champion James "Clayster" Eubanks. The pro gamer collaborated with Zenni on a capsule collection of frames released in late July. Just days earlier, Zenni had debuted its Official Call of Duty League collection, with styles for each of the 12 teams in the esports league.
It's safe to say that Clayster and the Call of Duty League appeal to a different audience than does another of Zenni's current brand ambassadors, fashionista Iris Apfel, who will celebrate her 100th birthday later this year. Other brand-building promotions include a tie-in with the Ryan Reynolds movie "Free Guy," scheduled for release in August.
"We're trying to be as diverse as possible" when it comes to marketing channels, Pate says. "We just can't do enough to introduce people to the brand and legitimize it."