Vineyard Vines Markets the Good Life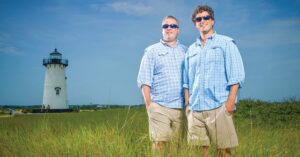 Vineyard Vines is a great example of a brand built on aspirations of the good life.
In a new profile, Boston Magazine details the origin of the preppie clothing brand, started by Greenwich, CT-born brothers Shep and Ian Murray.
Whether you love or hate the preppie style, one reason prep has retained its appeal for more than a century is that it offers something nearly everyone wants, the ability to convey a nice life, writes Alyssa Giacobbe. "Even before apparel companies began repositioning themselves as 'lifestyle brands,' prep was always about selling an aspiration, a pass into an exclusive club. People were drawn to the elitism if it meant they could be part of it."
Vineyard Vines began selling ties, and moved into selling clothing in 2004. In the early days, the Murray brothers recognized the value of content marketing long before content was a trend. In 1998, after President Bill Clinton was photographed testifying in the Monica Lewinsky case wearing a tie Lewinsky had given him, Ian went to Clinton's HQ on Martha's Vineyard and told the local media hanging around the area that he was a local businessman with a necktie business. He didn't succeed in getting a tie to the president, but he did make the news that night.
"We learned the power of the press," Murray told Boston Magazine, and "how it's free if you've got a story to tell."
To read the complete profile, visit BostonMagazine.com.
Related Articles:
3 Key Tactics Promote Nordstrom Anniversary Sale