UNO Spices Up its Value Platform and Customers Come Running
UNO is on a mission to reestablish and reassert its position as America's favorite pizzeria restaurant and bar by strengthening its value platform.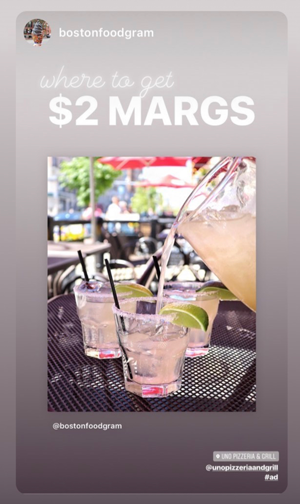 To do that, UNO, famous for inventing the deep-dish pizza in Chicago in 1943, is playing to one of its strengths—margaritas. A recent $2 margarita program, in partnership with Sauza, began April 29, the week of Cinco de Mayo. That promo was paired with a $2 Corona promo as part of UNO's value platform. The campaign was designed to bring new guests to the restaurant and excite existing customers.
"We were thinking about how to engage people beyond our craft beer program. We came up with a margarita we could market for two dollars," UNO CMO Sam Mancuso says.
The promo was marketed through influencers, PR outreach, on Facebook and Instagram, as well as through content to it 900,000 members strong Insider's Club and by restaurant employees.
The campaign is measured by sales, profits and margaritas per covers and is so successful it is being extended through the end of June.
While Mancuso declined to share specifics he says, "We are not only driving margarita sales and profit for our overall restaurants, but are we increasing the overall traffic to our restaurants. So far so good, we're hitting on all cylinders. It's been great and well received by our franchisees as well."
This month, another promotion, "UNO Now, UNO Later," joins the value platform. Customers that purchase an entrée, which comes with a side salad, get to take home a classic pasta entrée, a deep-dish pizza or a Chicago thin crust individual pizza.
"It's a great sales layer and engagement layer for us to provide value in the cost of the entrée, but also in the time savings that affords mom or the meal provider and a delight to the people who may not have been able to go to the restaurant that night.
---
More on Customer Engagement:
---
UNO Now, UNO Later is being tested in the New England area and in one restaurant in New Jersey.
"We've seen an uptick in sales in those restaurants so we're very encouraged and that is without the overall marketing support that we'll put behind it when we roll it to all restaurants in the middle of June," Mancuso says.
In general, UNO's marketing strategy focuses on engagement marketing through emails to its Insider's Club, its social media channels and paid social and digital media like display advertising and connected TV. That strategy is complimented by in-store displays and other collateral as well as "Dough Raisers" or local marketing to raise funds for community causes.