UGG VP Marketing on Tom Brady's Impact on the Brand
Tom Brady, that handsome New England Patriots quarterback, has been representing UGG for Men for just over a year now. His latest campaign, "Pink Slip," is for the holidays and turns on a story he relayed to the media a few years back that he has a tradition of giving his teammates the UGG for Men "Ascot" slipper as a way to say thanks. The integrated program includes TV, print, digital display and online videos, out-of-home, mobile, social and public relations.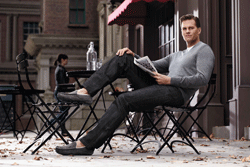 Nancy Mamann, vice president of marketing, UGG Australia, talks about the impact Brady's participation has had on the brand and how this all came about.
PROMO: Why did you focus the campaign on Tom Brady's story of giving his team members UGG footwear?
MAMANN: We were inspired by the authenticity of this story and felt it would resonate with our male consumer—especially around the holiday gift-giving time. That's how we developed the idea of Tom Brady welcoming a rookie on the team with a pair of UGG slippers.
PROMO: How are you overcoming the perception that UGG is a women's brand?
MAMANN: Today, men generally don't view the Classic boots as a product for them—which is why we don't incorporate Classic styles in our men's advertising. However, they are aware of the quality, craftsmanship and comfort of UGG—all attributes men seek in footwear—through their slippers or through their sisters, wives and girlfriends.
PROMO: What is your goal with this insight?
MAMANN: Our goal is to leverage this awareness and deliver a wide range of products that have these qualities in silhouettes designed specifically for men.
PROMO: What is your marketing strategy to achieve this?
MAMANN: In order to position UGG Australia as a true dual gender plan, in addition to shifting the perception you mentioned, the brand established UGG for Men to target men in an authentic manner. UGG Australia signed Tom Brady to represent the brand in September 2011, developed seasonal marketing campaigns that ran in male centric outlets, and developed an UGG for Men voice for marketing and social media.
PROMO: What else are you doing at retail?
MAMANN: The brand opened an UGG for Men store in June 2012 (in New York City) where decor, styling and merchandising are distinctly different than the women's sections.
PROMO: What other marketing campaigns has Brady been in since he came to the brand?
MAMANN: He starred in the "Steps" integrated marketing campaign in September 2011 and the "Invisible Game" campaign in September 2012. "Pink Slip" is Tom Brady's third campaign with UGG for Men.
PROMO: How do you determine the ROI of Tom Brady as a spokesperson?
MAMANN: Since the launch of the campaign with Tom Brady the UGG Men's business has grown significantly.
PROMO: What are you doing with mobile and social?
MAMANN: Each campaign has mobile integration and messaging that encourages men to shop during this important gift-giving season. And all campaigns are integrated into all social platforms with social specific content.
PROMO: What is the history of UGG?
MAMANN: UGG Australia boots were originally made for men—surfers wore them to keep warm on the beach after coming in from the ocean after early morning sessions. The evolution of UGG from a brand that made sheepskin boots, slippers, clogs and sandals for an active, outdoor lifestyle to a brand that is known for stylish, casual and luxurious comfort was swift.