Travel Marketing Roundup: United Airlines, Switzerland Tourism, Orbitz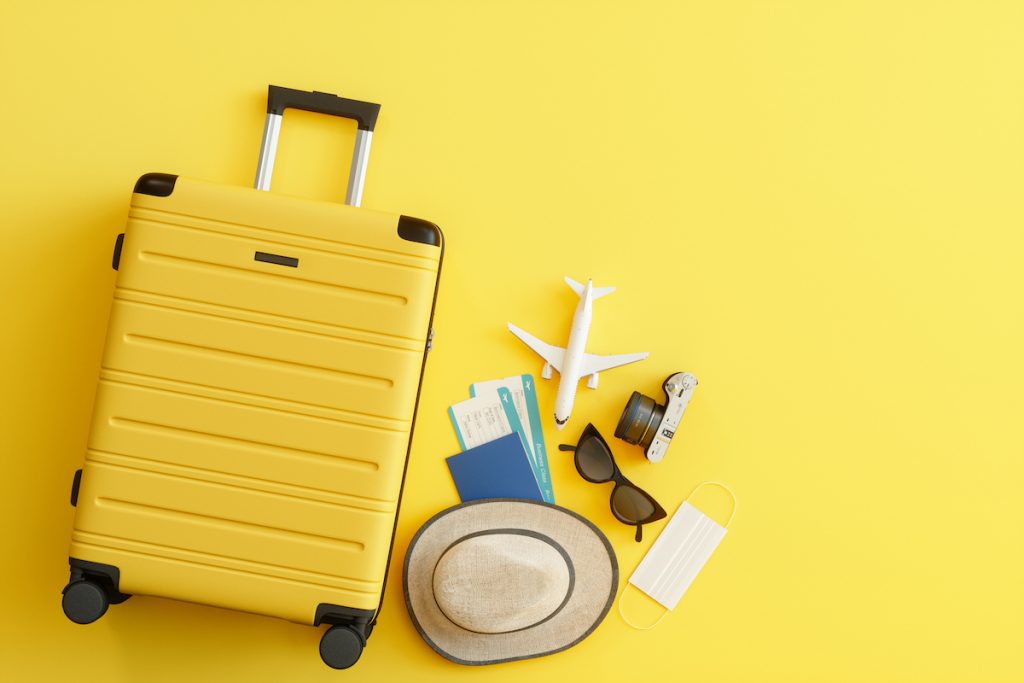 Thanks to increasing COVID-19 vaccination rates, Americans are becoming willing and able to travel—and travel brands are ramping up their marketing efforts. Below are just a few of the early campaigns in what promises to be a spring and summer cornucopia of travel-related marketing.
United Airlines and Chase Card Services decided to capitalize on pent-up travel demand by launching the United Quest Card. The credit card rewards cardholders with credits toward flights on United as well as for TSA Precheck and Global Entry, among other perks. The airline and the bank celebrated the April card launch with the "Questination Unknown" campaign, in partnership with Pack Up + Go, a travel agency that arranges customized domestic trips for clients based on their preferences but doesn't reveal the destination until the day of departure.
The promotion, which offers a limited number of discount codes for Pack Up + Go packages between April 27 and May 18, is fronted by Mario Lopez of "Access Hollywood," in what is likely an effort to catch the attention of Gen Xers and millennials who remember him from "Saved by the Bell."
Switzerland Tourism enlisted another widely-known celebrity, record-breaking Swiss tennis champ Roger Federer, to attract visitors, Travel Weekly reports. The campaign targeted European travelers when it kicked of in April and is expanding its reach in May to the U.S. and Asia-Pacific markets. The MySwitzerland website includes Federer's picks of hiking trails, city breaks and other things to see and do, as well as videos that also appear on its social channels.
Switzerland Tourism teased one video, which showed Federer answering the phone from a chalet in the Alps, asking Twitter followers to guess who was ringing him. (Spoiler: It was Robert DeNiro, explaining that he couldn't possibly make a film about the country because it lacked drama and was "too perfect.") A sweepstakes for an eight-day luxury vacation is being promoted as "win now—travel later" to appeal to those who aren't ready to jet overseas quite yet.
Monterey County Convention and Visitors Bureau (CVB) declares that "Now Is the Moment" to explore the California county. Launched April 26, the campaign coincides with the reopening of scenic Highway 1 following a collapse near tourist mecca Big Sur and precedes the state's scheduled lifting of most COVID restrictions on June 15. Monterey County CVB is augmenting a national TV spot with social media and PR programs, which include lists of new attractions and special offers, in what is the nonprofit organization's largest-ever campaign.
While Monterey County CVB is using the reopening of Highway 1 as a hook, Business Iceland (aka Íslandsstofa) is taking advantage of an even more dramatic event: the eruption of the Geldingadalir volcano. Iceland Review reports that the organization has added a live stream of the volcano on its Visit Iceland website and partnered with American photographer Chris Burkard to share his spectacular images of the phenomenon on social media. (Visit Iceland's 143,000 Instagram followers pale in comparison to Burkard's 3.6 million.) "This new destination will definitely be one of the ones we will focus on when we see travel start up again," said Business Iceland program director Sigríður Dögg Guðmundsdóttir.
The Tourism Authority of Thailand has teamed with Japan Airlines to woo upscale Americans by offering luxury packages through the end of September via a Japan Airlines microsite. In addition to flights, the packages include stays at two exclusive Bangkok hotels and add-ons such as a gourmet dinner cruise and cooking classes at the renowned Blue Elephant. According to Focus on Travel News, the partnership is initially being promoted in the May/June issue American Express's Departures magazine.
Ahead of Pride Month, and 20 years after its first ad targeting the LGBTQIA+ market, Orbitz launched its "Travel As You Are" national campaign in April. The company posted a short film featuring a cover of Lesley Gore's "You Don't Own Me" by gay musician serpentwithfeet on its LGBTQIA+ microsite and its social channels. In addition, it updated the microsite to include listings of hotels that have signed its Inclusivity Pledge. "The campaign also is a sign of how Orbitz's marketing has shifted in a period of months," Marketing Dive notes, from spotlighting virtual tours to encouraging consumers to leave their homes.