The Evolution of Search: 3 Things to Know in 2019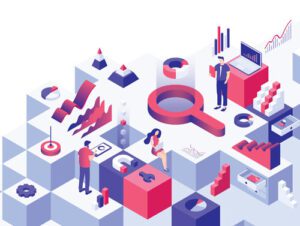 Search was once a relatively simple tool, but it has become a trusted friend with endless answers, both to consumers and B2B buyers.
With 90 percent of executives already researching their company purchases on mobile devices, it won't be long before voice search becomes common in business circles. As search continues to evolve, B2B sellers and marketers must be prepared to take advantage of new capabilities.
Transcending the Search Bar
Queries used to be limited to one-word prompts, but searchers now use questions and conversational long-tail phrases. Someone 10 years ago may have plugged "Cleveland Browns" into Yahoo! to see who the Browns were playing that season. Today, that same person could say "Siri, what is the Browns schedule this year?" and get an immediate result.
This ease has contributed to a recent increase in voice search. ComScore projects that 50 percent of all queries will be voice searches by 2020, which means context and user intent will become increasingly important for search optimization.
B2B buyers are experiencing the same revolution. People who once relied on sales reps for information now prefer to do their own research online, per Forrester. Companies must identify the sort of questions their prospects ask and have answers ready and optimized for modern search.
---
You May Also Enjoy:
---
In a recent study from Stone Temple Consulting, about 50 percent of respondents said they used voice search while at work. Respondents were still shy about conducting voice searches in front of others, the study found, with individuals in the highest income bracket most likely to use voice search regardless of who's around. Those high-income executives are the prime targets for most B2B businesses, and they rely more heavily on voice search with each passing day.
It's vital that B2B companies and marketers understand how search behaviors and technologies are evolving in the workplace. Here's three trends to watch in 2019.
Independent Pre-Purchase Research
B2B buyers will continue to do more pre-purchase research online and through a wider variety of channels. Understanding the motivations of buyers will be key as more people skip the sales pitch in favor of their own research.
Most buyers avoid talking with potential vendors until their minds are all but made up. In turn, marketers must anticipate the questions potential customers would normally ask during the buying process and provide relevant information in readily accessible channels.
To ensure you're providing buyers with the right information, reach out to current clients and prospects to ask about the questions they had during their research. How has their experience changed in the past five years? What about in the past 10? How do they search for information, and what are they finding? Pay close attention to the language they use — those words reveal the type of content their searches will find.
Contextual Content
Content might be king, but context is its queen. It's no longer enough for toymakers to write "Top 10 Toys" articles and rack up oodles of search results. Today's deeper pool of search and paired marketing data reveals how customers are searching, where they are performing searches, and what they want to know.
As search becomes more reliant on long-tail keywords, marketers must cater to microsegments if they want to stand out. That "Top 10 Toys" article, for instance, would perform better as a list of the "Top 10 Last-Minute Gift Ideas for Kids in Cleveland."
Speaking of localizing, businesses that fail to optimize for hyperlocal results will see a steady decline in search activity. This shift dramatically influences how businesses should think about user and keyword research. That consumer who searched for "party supplies" via laptop last year now looks for "party supplies near me" on a mobile phone. If your business has a physical location, claim your Google Business listing to take advantage of local searches for your products and services.
To understand the context of search queries, source information from several different places to piece everything together. Conduct keyword research on the buyer audience, but also look to Google Analytics and CRM data for deeper insights. Identify information that could lead to educational, informative, or inspirational content for prospective buyers. When one audience demonstrates a preference for a certain piece of content, retarget those prospects with similar follow-up content to keep the conversation going.
Voice Assistant Reliance
Smarter voice assistants will shape the way marketers optimize products and content. Voice search in B2B might not be quite as common as it is in consumer circles, but its popularity is growing quickly. To account for this shift, B2B marketers should consider what prospects might ask a personal assistant during each stage of the sales process. Questions such as, "OK Google, how does product X compare to product Y," and "Alexa, how quickly can I get 500 widgets delivered from my distributor?" will become commonplace sooner than we might think.
Rather than using the same keyword multiple times on a page, brands should mirror the exact language and phrasing their buyers use. Marketers should create individual blog posts or Q&A pages that answer common buyer questions, ideally matching the language of those buyers. To make this easier, B2B marketers can talk with their sales teams to uncover common questions about their products or services during initial sales calls. These questions and answers can then inform the content those marketers create. The better the response, the more likely it will be Alexa's or Google's go-to answer.
Compared to only a few years ago, search is an entirely different beast. As voice search—and other new technologies — becomes commonplace, marketers must take steps to tackle different challenges. The future of search arrives in a new form every day; the longer B2B marketers wait to optimize for that future, the more opportunities they stand to miss.
Patty Parobek is director of integrated marketing strategy for AMG.