SunTrust Runs its Own Playbook for Super Bowl Weekend
SunTrust Bank is on the ground in Atlanta—its hometown—running its own playbook for Super Bowl weekend.
As the official bank of the Atlanta Super Bowl Host Committee, the brand is activating a number of experiences and other marketing to drive its message of financial confidence.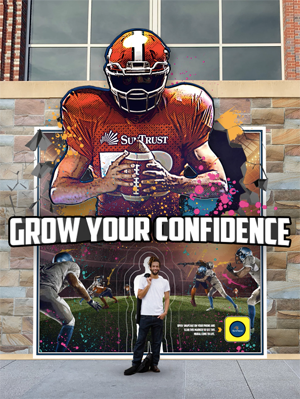 "We are blanketing the city with awareness," SunTrust Bank CMO Susan Johnson says. "There are 1.5 million people coming into the city and a lot more people that will not even go to the game so we wanted them to see our brand and support for Atlanta."
SunTrust's movement to spread financial confidence began several years ago and every activation and marketing message plays to that theme.
"Financial confidence is about having confidence and control over your money, which our research shows makes people much more satisfied with their lives," Johnson says. "It's about helping people learn about budgeting and money saving tips."
Over the weekend, fan fest, which includes the "SunTrust Confidence Classic" is a free family event hosted by SunTrust and the Atlanta Braves. The event includes the Celebrity Sweat 19th annual "Celebrity Flag Football Challenge" along with prizes, games, athlete meet ups, celebrity autograph signings and interactive experiences like testing skills as a quarterback.
On social, an animated Snapchat mural at The Battery Atlanta uses new technology in the Snapchat app that has never before been used by a financial services brand, Johnson says. The 18-foot high mural comes to life through augmented reality when the Snapchat code is scanned.
---
You May Also Enjoy:
---
"The mural really takes social media to a whole new level and makes it an experience," SunTrust Bank SVP, Director of Social Media and Content Marketing Sheri Malmgren says. "Anyone that's drawn to this is going to know what to do and want to experience it. It creates a really cool animation and also doubles as a photo opp for people to share on social."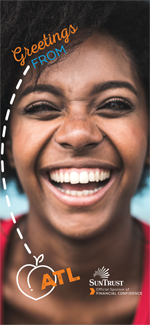 Another way for Snapchat users to participate with SunTrust is its "football" lens that when opened drops a football helmet and jersey that turns the user into a football player. The lens also allows users to choose football uniform colors.
Airline passengers who arrive at Hartsfield-Jackson Atlanta International Airport will begin to encounter the campaign through digital displays throughout the terminals and concourse. And through geo-targeting, Snapchat users at the airport—as well as visitors to SunTrust Park and at The Battery—will see football filters pop up to share with friends.
Throughout Metro Atlanta, creative is featured on the exterior of MARTA buses as well 30 static and digital billboards.
The campaign will be measured by brand awareness and consideration, media value, national exposure and brand recognition for financial confidence.
"To do something as unconventional as our plan for the big game took tighter team work than I've ever seen in my career across people in marketing, business, tech teams and across all agency partners," Johnson says. "I'm very proud of how we came together as a team, how we learned to work with each other to do something that is unusual and innovative."