Sharknado 3's Storm of Marketing Tie-Ins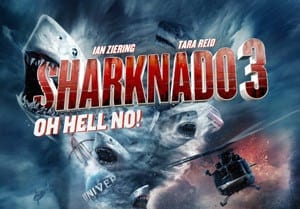 It's okay, you can admit it: Either live or on DVR, you watched "Sharknado 3: Oh, Hell No!" this week. And you flippin' loved it.
What, you didn't watch? Seriously? Eh, no worries. I did that for you, because I care.
Of course, not everyone felt the third installment of the Syfy franchise had enough…teeth. Adweek's review chided the film for being basically just an infomercial for Comcast (a division of NBCUniversal Cable owned by, yep, Comcast) and Universal Studios Orlando (owned by, well, you know).
Even to my kids, the shameless self promotion was obvious, but it somehow added to the fun of all this nonsense. It was a hoot to see sharks attacking theme park attractions we had been on, and who doesn't want to see the hosts of the "Today" show get mauled by sea creatures?
Naturally, the opportunity to let other brands hitch their wagons to Sharknado's fin didn't swim by. One of the most fun was Total Wireless's spots saluting the fallen heroes of the movie, like Lou Ferrigno (Hulk not smash shark. Hulk big fish food. Hulk sad.) Ferrigno played the Vice President's security guard, who gets killed nine minutes in. All of the departed will be missed by their friends, family and their overpriced wireless carrier, the Total Wireless ads declared.
Benefit Cosmetics also joined in, tapping one of the film's stars Tara Reid for a commercial where they use mascara to fight sharks. Off-screen, the tie-in's continued, as Riverdale got hit by the storm in an "Archie Versus Sharknado" comic book. (Read a preview here.)
Overall, Forbes.com was more impressed by "Sharknado 3" numerous marketing tie-ins. (I just downloaded the "Go Shark Yourself" app and can't wait to try it.)
MediaPost reported that ratings were down compared to "Sharknado 2," but engagement wise, it was a success. As Deadline noted, the cameo filled cheese fest bit off a whopping two billion Twitter impressions, doubling that of last summer's installment.
As we wrote in our profile of Syfy, the channel is adept at connecting with fans via socal media, so the twist at the end where Tara Reid's character's fate is left in the hands of fans who vote via Twitter was no surprise. (For the record, my kids and I are definitely Team #AprilLives. She's a badass with a robot arm for goodness sake. And she's a mom. Mom's are tough.)
Of course, all will be revealed next summer in the inevitable "Sharknado 4." We're hoping the cameos will finally include Adam West. Set your DVRs now.