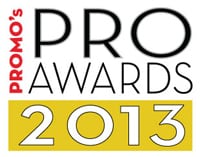 Campaign: Jockey JKY Right on Target
Brand: Jockey International
Agency: TPN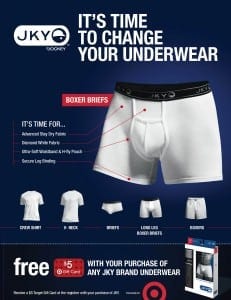 Being considered a classic brand, one whose name has become synonymous with the product itself, has its advantages. When it comes to attracting younger customers, however, it can be a significant disadvantage.
Such was the case with men's underwear brand Jockey International. Younger males considered Jockeys the underwear of their fathers, if not their grandfathers. When it rolled out a new line, JKY by Jockey, sold exclusively at Target, in summer 2012, Jockey needed to convince those younger males that the brand and its products were hipper than they might think—and that Jockey sold boxers and undershirts in addition to briefs.
Working with Target and agency TPN, Jockey created an integrated program to educate men about how choosing the right undergarments will improve how they look and feel—and, of course, that Jockey made those right undergarments. In-store ceiling banners with the headline "It's Time to Change Your Underwear" grabbed shoppers' attention, as did signage on the coveted back wall of the stores and cards inserted into the back pockets of men's jeans on sale in the stores—great for encouraging add-on sales. Target circulars advertised a $5 gift cardwith purchase, and a Facebook microsite was set up to introduce the product line.
While these efforts drove traffic to the JKY by Jockey section of the stores, the product packaging helped close the deal. A die-cut opening on the front allowed shoppers to feel the quality of the fabric without opening the cleanly designed boxes.
Younger shoppers grew convinced that Jockey wasn't just for the old folks. The average age of JKY buyers was 32, more than 20 years younger than the core Jockey customer, and there were enough of those young shoppers that Target asked Jockey to create a JKY line for women. In fact, not only did 88% of JKY customers say they would make a repeat purchase, but a third said that they would replace all the other underwear in their drawer with JKY.