NYX Professional Makeup Leans Into Social, 2000s Nostalgia and Esports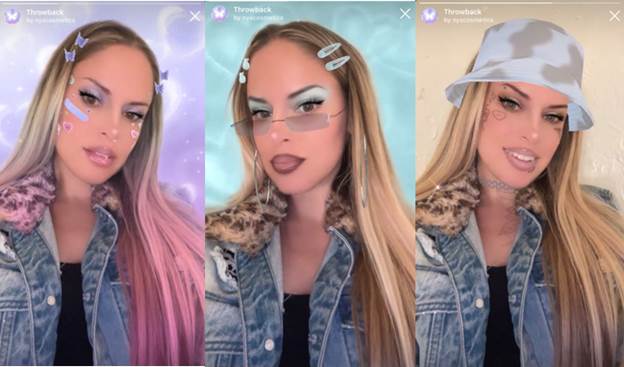 NYX Professional Makeup describes itself as a "digitally native beauty brand," so it's no surprise that the campaign for its fall 2021 collection incorporates social platforms Triller and Instagram. At the same time, the L'Oréal-owned brand is leaning into nostalgia for the early 2000s, before either Instagram or Triller existed.
NYX introduced the fall Throwback with NYX collection, described as "iconic classics with a fresh twist," in June by teaming with Paige Piskin, a self-described "AR/XR makeup artist." Piskin created three exclusive Instagram filters that accentuate the oughties vibe of the collection (think sparkles, butterflies, and oversize hoop earrings). Influencers and fans subsequently shared their throwback makeup looks on Instagram and other channels; one clip on NYX's TikTok channel, titled "Throwback 2000s HipHop Look," garnered more than 155,000 likes in just three weeks.
Then on July 8—a #ThrowbackThursday on social media—NYX produced a live makeover challenge with three chart-toppers of the 21st century's first decade: Brandy, JoJo, and 'NSYNC's Lance Bass as host. Brandy and Jojo recreated their looks from that era using NYX products, and viewers could click-to-buy while watching the challenge, courtesy of a button on the Triller screen. This was the first time such functionality was available on Triller. The program was subsequently available on demand, again with the click-to-buy functionality. NYX promoted the show on its Instagram and other social feeds. Within four days of debuting, the program had garnered more than 209,000 views. To further capitalize on the nostalgia, NYX offered new subscribers to its SMS feed the chance to win a one-on-one virtual chat with Bass or with Brandy and JoJo.
This wasn't NYX's first use of Triller to promote its wares. In December, to launch its spring 2021 collection, it hosted a live Triller concert with singer/songwriter Bebe Rexha that streamed simultaneously on Twitch and YouTube as well. Rexha also promoted via social channels NYX's new AR shopping experience. Users could access the digital shop, which featured games as well as the ability to virtually try on products, on both Snapchat and the Triller mobile app. To facilitate the latter, NYC incorporated tools from Snap Inc.'s Camera Kit into its Triller channel.
Esports is another aspect of digital life that NYX has ventured into. In September 2020 the brand promoted its Micro Brow Pencil by partnering with Nook Street Market, which creates apparel and accessories for Animal Crossing characters, to allow players to give their characters a new brow look. Tying in with that, NYX sponsored a live stream of members of the Dignitas esports team playing Animal Crossing, during which viewers could receive in-game codes for products. This activation was successful enough that in June, NYX became Dignitas's official beauty partner, the first makeup brand to partner with an esports team.
As part of the partnership, NYX branding will appear on the jerseys of Dignitas's women's Valorant and CS:GO teams. What's more, NYX will create sets in Dignitas's Verizon 5G Gaming Center in Los Angeles and its Newark, NJ, headquarters for creating game-day looks, live makeup tutorials, and other content. Other elements of the partnership include charity activations to benefit Raidiant, Dignitas's initiative to promote female gamers.