You Need People to Power Technology: Brinker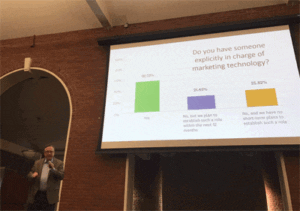 Marketing technology investments are great, but the process doesn't stop when you buy a solution. The right people need to be in place to make the tech work for your organization.
"Technology is changing what is possible with marketing, and that means you need to change how you operate," says Scott Brinker, editor of ChiefMartec.com and vice president, platform ecosystem, Hubspot. "Everything we do today in marketing is fed by technology."
A 2016 CEB study of 100 companies that had adopted personalization technology showed that the top performers emphasized the role of people in implementing that tech, as opposed to just focusing on the tech itself, empowering people to do more experimentation and democratizing access to the tools throughout the organization.
"The real value was being harnessed by how people were taking advantage of the technology," says Brinker, who spoke at NEDMA's MTech Summit last week.
A study from TBR shows that 75 percent of enterprises have someone responsible for bringing in martech and ad tech to business units. In 42 percent of organizations, this responsibility fell on the CMO, while 17 percent had a dedicated chief marketing technologist or chief innovation officer.
"Increasingly, the scope of marketing is shifting to oversee the customer experience, beyond acquisition and even loyalty," Brinker notes. "This is a big shift."
The CMO Council recently asked CMOs to pick their top mandate for 2018. Accelerating revenue growth across the organization was the top goal (28 percent), followed by optimizing the customer experience strategy (20 percent) and championing a customer-centric mindset (19 percent).
Today, customers don't want to just access content, they want to get something from the organization, says Brinker. Knowing who truly owns the customer experience is vital. There are multiple possible scenarios—the marketing and product teams can merge to share the work, or product can own the experience, while marketing can own the communications strategy.
Brinker is perhaps best known as the mastermind behind the marketing technology supergraphic that keeps many marketers awake at night. His team is at work on this year's version, and like previous years, it continues to grow. ("If you're expecting massive consolidation, this isn't your year," he jokes.)
The explosion of technology isn't just happening in marketing, he said. Similar graphics are available for other verticals like HR or accounting, and they too are imposing. "Marketing is not an anomaly," he says.
Related Articles:
Special Report: Masters of Martech
Q&A: Tina Wung on the Future of Martech and Media Investments
GE Digital Stays on Top of Martech Trends