Mello Yello Meets Camouflage
Don't look for that Mello Yello bright yellow packaging. It's been camouflaged.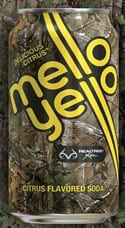 The fresh look for the citrusy soda comes as a result of the brands new partnership with outdoors and hunting brand Realtree. The campaign, "This is my World," goes beyond just reimagining the cans to include radio, POS and out-of-home ads featuring David Blanton, host of the Outdoor Channel's "Realtree Outdoors."
Mello Yello, owned by Coca-Cola, hopes consumers will take a fresh look. You'll get all the details here.