March Madness Hits 7-Eleven and BodyArmor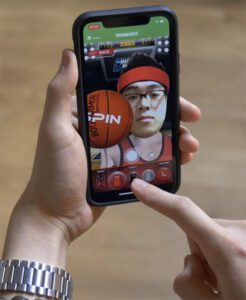 It's almost April, but March Madness is still going strong. To connect with basketball fans, 7-Eleven is collaborating with the NCAA and sports drink BodyArmor on an AR game where customers can play their own three point shootout challenge.
The game—accessible via the AR menu in the 7Rewards loyalty app—gives fans the chance to interact with several college basketball inspired experiences, where they can earn points good toward future purchases. Points are doubled if they buy a Body Armor product in-store.
The campaign, which runs through April 10, is designed to increase app downloads and engagement with the loyalty program. The three point shootout mini-game allows users to play against opponents and try to successfully score 10 hoops. The first in each game to reach the final hoop and score wins the round. When they complete each of the game's three rounds—which are of increasing difficulty—users earn 10 7Rewards points.
Customers can also take a selfie drinking a BodyArmor drink and put their face onto a basketball player's body. Sharing the snap wins them more points.
The March Madness activation was created using Zappar's ZapWorks toolkit. 7-Eleven's first venture with the tech was last spring in a promotion tied to "Deadpool 2." Users could interact with the superhero, who would appear in their area and draw mustaches and horns on their faces in a selfie filter.
7-Eleven has more than 67,000 stores in 17 countries. Over the last year, the chain has put significant effort into increasing participation in the rewards program. It added three million new members last spring with a points giveaway. Last month, it began offering exclusive benefits to veterans and active duty service members in the program via a partnership with Veterans Advantage.
---
You May Also Enjoy:
---