Lego is the World's Most Powerful Brand: Report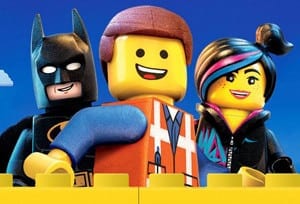 Everything is awesome indeed: Lego has overtaken Ferrari as the world's most powerful brand, according to a new report from Brand Finance.
Not surprisingly, "The Lego Movie" helped propel the toy brand into the top spot, according to the annual Brand Finance Global 500 Report. In a tech-saturated world, Lego is a creative, hands-on toy that encourages creativity in kids and nostalgia in their parents, resulting in a strong cross-generational appeal.
Lego has a huge consumer marketing presence, not only with the "Lego Movie" characters like Emmet and Wyldstyle, but popular lines based on television, movie and comic book properties, like the Star Wars universe and Marvel and DC Comics superheroes. On the B2B side, the Lego Education brand has a strong customer base in the classroom. (Click here for our exclusive profile of Lego Education.)
While Ferrari remains a powerful force, Brand Finance reports that the "sheen of glory" from its 1990s golden era is starting to wear think, thanks to several years without an F1 title and the departure of Luca di Montezemolo as chairman of the company.
Still, Brand Finance CEO David Haigh noted in a statement that Ferrari is still in a strong position. "Its brand value has actually increased 18% this year to $4.7 billion. The new strategy to capitalize on the brand will certainly drive short term value, but over-exploitation risks lasting damage."
When creating the report, Brand Finance looks at brand strength and financial value to calculate a company's commercial value. When brand values are calculated, Apple comes out on top, thanks to its ability to monetize that brand by monetizing existing tech such as the mp3 player, the smart phone and the tablet.
Twitter is the fastest growing brand; it has almost tripled its brand value in a year, increasing from $1.5 billion in early 2014 to $4.4 billion now, according to the report. Fellow tech giants Baidu and Facebook have also grown strongly, by 161% and 146% respectively.
Away from the tech and telecom sectors, Chipotle was a leader, with its brand value up 124%. Perhaps it is because consumes want to eat healthier: McDonalds' iconic brand has lost $4bn in value this year.