KFC Shares its Social Media Strategy: Q&A
KFC is using social media to give away hundreds of gift certificates to fans and followers who stay alert to tweets and Facebook posts and to bring attention to a point of differentiation from its competitors—its chicken on the bone is fresh, not frozen.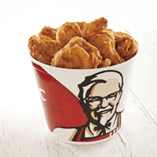 This month-long campaign, which ends Feb. 28, distributes 20 tweets from @kfc_colonel and Facebook posts at random times each containing a link to a secret page on KFC.com. The first 50 people to enter a valid email address will receive a $5 gift certificate toward a meal at KFC.
The promotion is just one way KFC reaches its large base of fans—79,000 Twitter followers and 3.9 million Facebook fans. The communications are largely entertaining and used to encourage participation from its customer with a dash of sales promotions mixed in.
Rick Maynard, spokesperson for KFC, shares the brand's social media strategy.
PROMO: How did KFC attract its social media followers?
MAYNARD: It's been really organic. We launched both of these pages about three years ago. I sent the first tweet out when literally no one was following us except my mother and me. The reason we've attracted so many followers is because there are a lot of people that have affection for the brand and they find our social media fun and interactive.
PROMO: What types of content do you post?
MAYNARD: The first thing I look for is something fun and engaging. Certainly we share a fair amount of info that's promotional in nature, likes what's being featured in our restaurants. 75% to 80% of what we communicate in our social media space is not really related to anything promotional at all; it's just interacting with people who have affection for the brand and who we have a relationship with.
PROMO: Can you share an example?
MAYNARD: There's a video making the rounds that was taken in Australia of a man in a KFC restaurant, but he looks like Colonel Sanders, in a black shirt. We posted it on Facebook page and got lots of comments. There's nothing sales driven with that communications, it's just something we have in common with our fans and it's been fun. Our strategy is you build the relationship first and then they are more open to hear the occasional promotional message from you.
PROMO: What kind of reaction do you get to sales promotions?
MAYNARD: We get a good response and I think it's because we don't bombard people with sales messages day in and day out. People know when they follow our social media pages they'll get some fun interaction, but also certainly hear about the next offer at KFC. There is also a lot of value to following our pages, whether it's this program or a trivia question, we reward people by giving food away. It's a great sampling mechanism.
PROMO: What other elements make up your social media program?
MAYNARD: There's also a significant customer service element to it. Increasingly people are contacting brands through Facebook and Twitter instead of making a phone call. We have a cross-functional team, about four of us are responsible for monitoring social media and we have someone who is online the majority of standard U.S. business hours.
PROMO: How do you deal with the inevitable negative comment?
MAYNARD: We handle it just the way we would if someone calls, we ask for details, handle it and thank them for bringing it to our attention. First it was the phone, then emails now we're laser focused on inquiries to our social media pages, it's part of the program now.
PROMO: How do you keep negative comments from spreading?
MAYNARD: If you're going to be successful as a brand in the social media space you have to live the pros and cons of transparency. We don't take down posts if someone says something negative; we just address the issue. So people who come to the page may see a customer service issue posted on the wall, but what they hopefully also see if that we addressed it. You'll never get out of the business of people potentially saying something negative about your brand.
PROMO: How does social media fits into KFC's overall marketing plan?
MAYNARD: This is a brand that wants to interact with our customer and where our customers are and they are increasing active in the social media space. This is another way for us to reach them beyond TV or traditional advertising means.
PROMO: Have you diverted funds from other media to social?
MAYNARD: From an advertising perspective we primarily get our message out through TV ads. But through social media we can reach a lot of people without spending a lot of money so that's one of the great, great, benefits of having a robust following in social media.
PROMO: How does KFC determine its ROI in the social space?
MAYNARD: A lot of social media companies have done a lot of research and they've tried to qualify the value of a Facebook fan or Twitter follower and that number can vary widely. We see value in the work we do just in a customer engagement and service perspective. At this point we're not obsessed with what the specific ROI is. Some research that we didn't commission but it happened to use our brand indicated that if a person is a follower on social media they are much more likely to spend more money with your brand than if they weren't.
PROMO: Where do you see social media two or three years from now?
MAYNARD: I think the possibilities are endless.