In a Troubled Time, Boeing Looks at Brand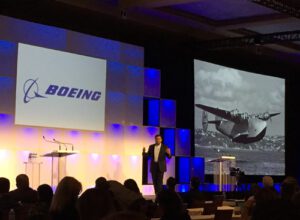 Most presentations on brand strategy don't typically begin with an apology, but Boeing's market position is anything but typical.
Jerry Verghese, VP of global brand management at the aerospace giant, started his session at ANA Masters of B2B today with a slide acknowledging Oct. 29, 2018, the day a Boeing 737 went down in Indonesia, and March 10, 2019, the day another 737 crashed in Ethiopia. Candidly, he told the audience that he debated whether or not to go through with the presentation, but decided it was best to be transparent with his peers.
"We fell short, and it is felt deeply across everyone who works at Boeing," he said. "We've let people down, we let our customers down, we let the flying public down and quite frankly we let our teammates down. We need to rebuild trust and make sure this is the safest transportation system in the world."
In the wake of the tragedies, the brand has paused all of its advertising, to reevaluate the future of the company and the brand platform it rolled out last year. Looking to the future, Verghese shared with the ANA audience the thinking behind the strategy, aligned to being purpose and human driven, with a focus on research and data.
Boeing needed to think about who its customer was, and how they made decisions. In 2016, a new business unit, Boeing Global Services, was launched, to focus on the plethora of new capabilities the company had to offer, many of which the public wouldn't typically associate with the brand.
Many of these new capabilities came through acquisitions. These include Liquid Robotics, which produces a Wave Glider to gather ocean data, and Aurora Flight Sciences, which specializes in autonomous aerial vehicles.
---
More From ANA Masters of B2B 2019:
---
The company needed to create a marketing platform that would serve a number of purposes. It needed to be flexible and scalable, and increase the global footprint. It also needed to help attract new talent, and increase the focus on those newly acquired capabilities.
It talked a number of constituents—including customers, employees, prospective employees and company leaders—and reviewed the company's competitive set and reputation, as well as the tone of its communications. These had often been engineering focused, and didn't highlight the people behind the technology.
There were three clear objectives, said Verghese. Boeing wanted to paint a clear vision of the future, anchored in the brand's purpose and values. It wanted to showcase the products and services. And, it wanted to shape the brand's reputation and build trust with emerging leaders and talent.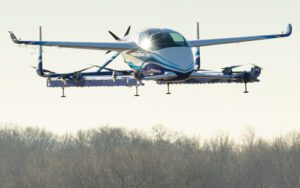 Four pillars of Boeing's aerospace innovation were identified—connecting, protecting, exploring and inspiring. These would extend across all touchpoints, from media and investor relations; to advertising, recruiting and employee engagement; to partner and supplier engagement; to sponsorships, experiential events, sales collateral and everything in between.
"We were on a journey to make sure this was translating across the enterprise," he says.
In the work to refresh the brand identity, everything was considered, including the signature "Boeing Blue" color used across the company. That was updated to a lighter, more dynamic hue.
How the brand represented itself at industry events was also reevaluated. At the Paris Air Show—the aerospace equivalent of CES for the electronics world—exhibits and messaging focused not only on the aircraft, but the people behind them. Boeing has also been investing in VR mixed reality, to help tell the brand's story at events in a more experiential way to attendees who might not actually get to physically go on board of the newest aircraft.
Boeing is also heavily investing in creating compelling content for social channels. This includes behind the scenes livestreams on Facebook, where mechanics and engineers are interviewed as planes are being built.
"Showcasing our employee voices and the people who work on our projects is important to show our human side going forward," he said.