IMAX Finds the Sweet Spot on Instagram Stories and Drives Growth Far Beyond Expectations
When IMAX began taking a hard look at its social platforms—Facebook, Instagram and Twitter—it wanted to understand how those three ubiquitous, yet oft elusive platforms could play a role in evolving its digital strategy to be more effective.
After some diligent testing and learning it was Instagram—in particular, Instagram stories— that would become a major spoke in the marketing wheel.
"If the only way to experience IMAX is to be in that incredible space, then the question for us is how can Instagram stories allow us to get closer to customers and more importantly have a more regular dialog with people who are huge fans of the brand," Denny Tu, CMO, IMAX, says.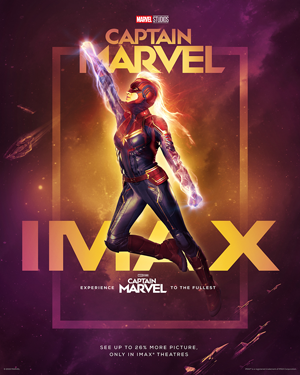 The team let its followers provide the answers through open-ended questions posed through Instagram polls—like, what's your favorite movie? Or, what piece of content did you like? The information gleaned was used to tailor content, sharpen the voice of the brand and drive the Stories content marketing strategy.
The results drove dramatic change. IMAX revamped its strategy from having a single beautiful image that promoted a single film title on its feed to emphasizing a more narrative approach through Stories. Content pivoted from conversations solely about titles to in-depth conversations that included more brand-related content about what made IMAX different and special in the market. The conversations swirled around IMAX's approach toward filmmakers and its cameras and it began to leverage more insights with polls, sliders and question cards.
One set of 10 cards for the foot-stomping film "Bohemian Rhapsody" began at the premiere as if the viewer were right there at Wembley Stadium in England. A click on the next card and the crowd appears live. Then, an engagement slider asked the follower if "you're ready to rock?" As the cards moved along, other questions engaged the viewer like, "What's your favorite Queen song?" Then, you might see Rami Malek, who plays Freddy Mercury, answer that question and finally a wrap with the premiere and a hashtag.
---
---
"I'm a big fan of brutally simple and the work that we put up is just beautiful and simple. Those 10 cards saw a 60-plus completion rate," Tu says. "Instagram was providing us some really good legs for obvious reasons. We're an immersive big brand. We're a visual brand and Instagram Stories allows us to better bring to life that full fan in-theater experience."
That storytelling strategy has driven a 45 percent increase in followers, now topping 306,000. Several patterns have also emerged. Live event coverage recorded success rates of 70- to 76- percent when five cards were used and 60- to 65 percent with 10 or more cards. The interactive elements recorded anywhere from six to 15 percent higher retention rates.
Going big
Shortly after the social revamp began, IMAX last year launched its largest global branding campaign to date, "Films to the Fullest." The campaign went live across 79 countries in 40 languages with over 100 exhibitor partners across the world and includes a combination of digital, in-theater marketing, posters, both digital and print, OOH activation and outdoor.
Numerous campaigns within the launch are based on movie titles which serve as an ideal content platform for Stories.
Social media marketing is managed in-house with a few agencies that provide some input and "hot-deskin"' with the IMAX team during periods of campaign bursts.
"When we get it wrong, we fix it," Tu says. "There are times when I'm looking at a story and asking: Did this hit that note that we need to hit? The ability to be able to make pivots and changes very quickly when you have the team here is great."
The challenge with Stories, he says, is getting the editorial calendar right to understand where Instagram fits into the cadence of the overall campaign and studio partners. Then there's the question on how much is too much.
"I don't think it's the number of stories you need to post," Tu says. "No one has the magic formula. Every brand has a unique set of followers that love the brand for a reason and my advice is you need to figure out what resonates with your brand and sometimes it's doing it in one or two cards, sometimes it's 10 cards. If we say maximum completion rate is 10 cards for a drama or comedy launching in France you will turn into an android and we're not interested in that. We ask ourselves whether or not we think the story is exciting and fun and if it is we'll do it and if not, we won't."
So what does all this fresh brand affinity mean?
"There's a lot of schools for thought on how we drive brand affinity in digital and how that drives transactional skill," Tu says. "Instagram best allows us to deliver what we need to deliver right now which is interactivity, and a visual spectacle."