IBM & Apple Apps Give Retail Associates Access to Customer Data
A new suite of apps for retailers from IBM and Apple, the Store Associate Suite, are designed to transform the in-store retail experience.
Sales Assist
The Sales Assist App, puts an enterprise level of customer intelligence into retail associates' hands. The idea behind the app is to give associates the resources they need to provide a much more personal—and personalized—experience for the consumer, such as telling a shopper whether specific items are in stock or to suggest other items that might be of interest to an individual customer.
The app uses real-time intelligence, displayed on a tablet, to direct associates to customers and allow them to provide real-time product, inventory availability and location information, as well as personalized offers based on historical patterns and profile data. The app is designed to increase basket size and revenue per transaction through improved information to support cross-sell and up-sell opportunities.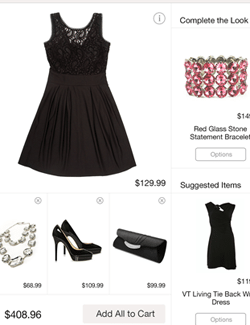 "We as consumers have such high expectations," Yolanda Wang, associate partner with IBM Global Business Services, said, yesterday at NRF's Big Show 2015. "With our apps we're trying to help the associate in creating that personal relationship that is at the heart of retailing."
For example, let's say Rebecca enters a retail outlet in search of a black dress for a cocktail party the coming weekend. By monitoring the app on a tablet and leveraging in-store location analytics, a sales associate identifies Rebecca and notices that she is "dwelling" in the dress shop. The associate can then go check with her and offer to help her with her shopping.
With the apps' functions, the sales associate can:
Pull up similar items based on the product attributes of the dress Rebecca likes.
Identify other stores that have the dress in stock.
Pull up similar items based on the product attributes or those that other customers have reacted to.
The customer can be presented with "Complete the Look" accessories around a core item or based on a daytime or evening look.
The associate can bring all the items to the dressing room for the customer to try on.
Items can be delivered, the customer can go to the checkout counter or checkout can be a piece of the app process based on retailer preference.
Customers shopping at the store can also "check in" and request help from an associate, who picks up the message on the app. Some 54% of all retail store associates report that shoppers are better connected to product information than they are, according to IBM.
Pick & Pack
The Pick & Pack app gives associates the latest view of order and inventory location throughout the store. It provides real-time intelligence to associates to manage order fulfillment of ship, hold or pick-up orders from store locations within target service levels and optimize the efficiency of the flow of orders by sequencing the items to be picked in the most logical order.