Ford Activates COVID-Friendly Ride-and-Drive Experience to Launch New Bronco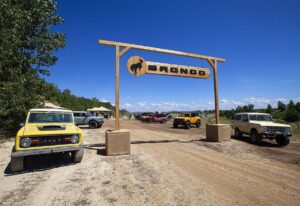 Automotive launches are still happening, even in these wild times. And in the case of the Ford Bronco, a model that hadn't reinvented itself in 24 years, going beyond a standard press reveal was key. The brand activated a ride-and-drive media event on Aug. 11 to launch the new two-door, four-door and Sport Bronco models, reports Event Marketer, that was, naturally, COVID-friendly.
Though the comeback campaign had begun to be conceived back in January of 2017, events in 2020 are decidedly different. The brand took groups of up to 12 media members on off-road rides, through tents highlighting Bronco memorabilia and merchandise and presented a keynote address about Ford's vision for the Bronco as an outdoor lifestyle brand. The latter led to a big reveal moment in which the three new vehicles raced down a steep cliff, back up a canyon and then greeted the audience.
Attendees experienced the Bronco models in pairs through rides across rugged terrain. Each vehicle was outfitted with a theme, from fishing to extreme off-roading to towing. To keep the event engaging, the experience played out in 15-minute intervals with an emphasis on storytelling. And, to ensure the experience was safe for the guests, masks, temperature screenings and social distancing were mandatory. For the full case study, read more in Event Marketer.