Where Should You Focus Your Mobile Budget—On an App or Your Website?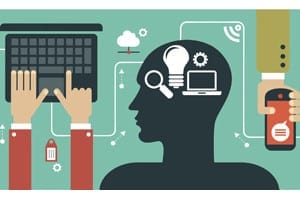 You're positive your brand needs a strong mobile presence. But what you're less sure of is where your time, energy and money should be concentrated to make that happen.
Should you create an app (or several apps) to engage customers and prospects on their phones and tablets? Or, should you instead invest in creating a strong website that will connect with users no matter what device they choose to browse or shop?
"I'm amazed that there are still retailers who don't design mobile first," notes Jeannette Kocsis, senior vice president, digital marketing, Harte Hanks. "I still see a lot of people pilot testing, instead of just launching [mobile friendly] landing pages and websites—they just need to dig in and start doing it."
The problem with basing your mobile strategy around an app is that your customer or prospect needs to go to the trouble of actually downloading the app, she notes. If someone gets a new phone, they need to download it again. "People don't always rush to do that. My favorite apps give me what I need when I need it."
Many companies also launch multiple apps, which is confusing to potential users. "If I go into the app store and see five different apps from a retailer, how do I know which one will meet my needs," says Kocsis. "It's better for companies to invest in one or two really good apps. Don't create internal silos between apps that are for PR or customer service—[having] everything on one will help you embrace the entire customer experience."
"We need to think about how we are interacting with consumers," agrees Tom Edwards, senior vice president, digital strategy and innovation, The Marketing Arm. "Where are they? What is the time of day? What apps are they using? All of those things drive the notion that mobile connects the consumer across channels, and overlaying contextual information can help make it a relevant experience."
Edwards notes that this means that marketers need to take into account everything—what was the customer's real time mobile behavior from the last page they were at to the present. "Personalization and context can help your create scale. It's larger than mobile, it's about connecting the physical and the digital and proving value."
Chris Douglas, director of digital, Switch, notes that a lot of his clients are trying to figure out how to become less app-based and more mobile website-based.
"If they are using an app, they're looking at how much of that content can be delivered via the web," he says. "Or they're asking if we can build things that are not device specific, such as an iPad app that is scalable to mobile phones."
One concern for app builders is that apps can quickly become obsolete—as an operating system gets updated, you need to think about the next update for your app, he says. Having a responsive version of your main website that understands the device the user has and can deliver content relevant to the device and location is often a better solution.
"For us, a lot of times it boils down to making sure the barrier of entry is as simple as possible," says Douglas. "Does it require heavy engagement? What channels are they active in? What is the easiest way to get people engaged on your site, so we're not forcing them to download something?"
Much of Switch's work is focused on the event space. If you're trying to engage attendees via mobile, you need to be relevant to where they like to be socially. "If attendees are typically active on Twitter, they will be active on Twitter at your event," says Douglas. "Not every attendee wants to receive push notifications."
At many live events, the channels that get the most traction for sponsors are Twitter and Instagram, which don't require the creation of a new app. But if a company does want to create an app, they're definitely considering how they can get the most bang for their buck.
"Can an app be repurposed for multiple experiences? How can it work on a multitude of devices, yet still have all the content web-based," says Douglas. "How can we build something that is essentially a shell and manage the content from the web? Mobile has been around long enough that they are aware of the costs and shelf life of applications."