Detroit Pistons Help B2B Brands "Speed Date"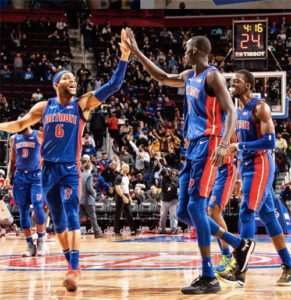 The Detroit Pistons have created Pistons Partner Connect, an opportunity for the franchise's corporate advertisers to make business connections.
Crain's Detroit Business reports that the networking events are "speed dating" type affairs, where advertisers are paired together to discuss potential partnership opportunities. Each company brings both sales and procurement execs to the table, and a Pistons rep joins them to help facilitate the experience.
"Everyone tries to sell B2B with hospitality and networking cocktail hours," Ted Van Zeist, the Piston's svp corporate partnerships told Crain's. "We didn't want to hope, we wanted to know, with tangible results. It's a focus on generating business. It's not a focus on chitchat or anything else."
About a dozen companies participated in the first event on Jan. 22, including Henry Ford Health System, Blue Cross Blue Shield, Flagstar Bank and Rocket Fiber.
The program was based off a similar B2B initiative Van Zeist created when he was with NASCAR before joining the Pistons, he told Crain's. The idea was to give advertisers more value for their sponsorship dollars with the events, where each sponsor is category-exclusive.
---
You May Also Enjoy:
---
B2B brands are increasingly taking advantage of sports sponsorships to create networking and engagement opportunities with customers. PGA sponsorships are particularly popular. Constellation, for example, promotes its brand by showcasing energy efficiency on golf courses. For FedEx, the FedExCup Playoffs help the delivery service engage decision makers at a variety of companies, ranging from small businesses to c-suite execs at Fortune 500 firms.
A variety of brand sponsors plan opportunities around the Volvo Ocean Race. Jordi Neves, chief digital officer of the VOR, told Chief Marketer the race sits down with sponsors to understand their objectives in different markets, to optimize their sponsorship experience.
"We try to find a real story to tell. We don't have sponsors here who become sponsors just because they want to have their logo on the biggest amount of space possible," he says. "They contribute one way or other to deliver the race, or the race experience. All of them have a story and telling that story is the best way for them to showcase their values and create visibility."
HCL Technologies uses the race stops to showcase its capabilities. VIP customers attend events in and around the Race Village, many bringing along their families to join in the excitement, says Arthur Filip, evp sales transformation and marketing. "It was an opportunity for everyone to come together in a non-threatening environment and discuss issues everyone is facing around strategy and digital transformation."