Burrow Sets Up in NYC Storefronts with Interactive Fortune Teller
Burrow, the furniture marketplace, has come up with an ingenious activation to interact with consumers walking along popular New York City streets.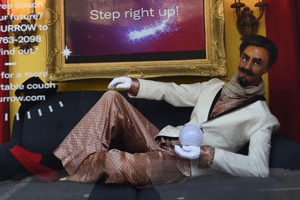 After wheeling and dealing to rent empty storefront windows, which realtors don't like to do because it blocks the view of the interior from perspective renters, Burrow installed interactive window displays. Lounging on one of Burrow's loveseats or armchairs, a fortune teller named Lord of Leisure prompts passersby to text him to get their fortune. When the text is sent, Lord of Leisure comes to life, waving his hand over his crystal ball and relaying the fortune, CampaignLive reported.
Those who participate get the chance to win free Burrow products.
The activation is taking place in five different storefronts in New York City—Christopher Street, Avenue of the Americas, Bowery, Mott Street and Kenmare Street.
---
Other articles you might enjoy:
---
"It's important to create multiple unique, memorable touchpoints with customers in order to stay top of mind, and to tell our story more effectively," he explained. "It's challenging to communicate that Burrow cares about leisure, is thoughtful about design, and is uncompromising on using sustainably sourced materials, all in a Facebook ad," Burrow CEO Stephen Kuhl told Campaignlive.com.