Barefoot Wine & Bubbly Highlights Diversity in New 'Barefoot with Us' Campaign and Tagline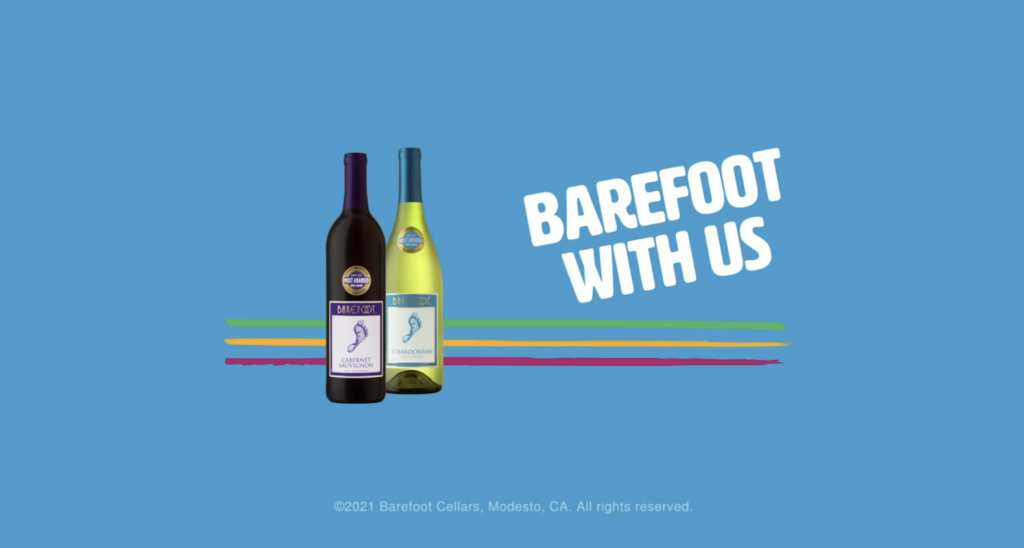 Anna Bell admits she got lucky with the timing of Barefoot Wine & Bubbly's first post-pandemic campaign, "Barefoot with Us." The Vice President of Marketing for Barefoot's parent company, E.J. Gallo Winery, knew that after a year of limited socializing, consumers would be eager for even small gatherings with friends. But she didn't know that the brand's rollout of its new campaign would coincide perfectly with full availability of the COVID-19 vaccine in the U.S. and the easing of pandemic-related restrictions throughout the country.
Bell and her team can take credit for the positioning of the Barefoot brand, however, which resonates especially strongly after the past year. "Fun is absolutely the intent of the brand," she says.
The centerpiece of the "Barefoot with Us" campaign is a series of ads to be spotlighted via a premium sponsorship of the third and final season of the Hulu series "Shrill." The 15- and 30-second spots will also be visible on YouTube and basic cable channels throughout the summer, as well as supported by social media and in-store assets. "We spend quite a bit of effort and marketing on that last touchpoint before purchase," Bell says.
One of the spots features a couple dancing together in an apartment during a date night in; another shows two women giddily preparing for a night out, while a third takes us to a small outdoor surprise party. The Barefoot wines and spritzers are part of the fun, but they're not presented as the sole reason for the fun.
As a lower-price-point product, the Barefoot brand is how people enter the wine category, Bell says. "Wine can be scary. [The industry uses] lots of language that's not easy to understand. Barefoot wants to communicate that wine is something to be enjoyed—fun, tasty, all those good things." The campaign is "an invitation to enjoy wine and be a part of the Barefoot world," she says.
Along with fun, diversity has long been a cornerstone of the Barefoot brand. The cast of the ads is as multicultural as you'd expect from a brand whose past spokespeople include actress/writer Mindy Kaling and "Saturday Night Live" star Kenan Thompson. Its very first brand ambassador—aka "Barefooter"—was the openly gay Randy Arnold in 1990, and it has supported LGBTQ+ organizations since 1988. Currently proceeds from sales of Barefoot t-shirts, totes and other swag go to the nonprofit Free Mom Hugs, an LGBTQ+ advocacy and support group, to help those affected by COVID-19. Barefoot has also partnered with another nonprofit, New Voices Foundation, to provide more than $150,000 in grants to businesses owned by Black women.
"We think of our consumer as a psychographic: It's people who want to feel free to be themselves, be joyous in life and share themselves with others," Bell says. Consumers are diverse, she adds, and Barefoot wants to reflect that. "Life's more fun when you get together and can be who you are: That's really what we wanted to get across in the campaign."
Another element the brand wanted "Barefoot with Us" to communicate was the breadth of its offering. The campaign encompasses all of Barefoot's products, from its sparkling wines to its hard seltzers to its boxed sangria. "We created 'Barefoot with Us' as a platform more than a campaign. Previously, we did a lot of work focusing on individual product lines or audiences," Bell explains. "There's a wine for everyone, and we're here to help you find it. We're underlining that under the umbrella of this one campaign."
As a platform, "Barefoot with Us" accomplishes multiple objectives at once. "And for a marketer, it's hard to do more than one thing," Bell says with a laugh. "We get to talk to our audience about the breadth of our portfolio through the lens of our value system."