Amazon Prime Day: 3 Takeaways Every Retailer Should Know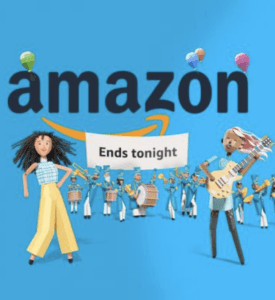 Amazon's performance this year for Prime Day was impressive, to say the least. The midsummer, 48-hour version of Cyber Monday was projected to bring in a $5.8 billion in sales for Amazon. To put that figure into perspective, the last Cyber Monday across the ecommerce industry was worth $8 billion in sales. And, it sold more than 175 million items in 18 countries, while its revenue exceeded Amazon's take-home for Black Friday and Cyber Monday combined.
What's more, in its five-year history, Prime Day has gone from being about only Amazon's brand to seeing 250 other retailers trying to partake in the sales event. Indeed, Walmart, Target, Nordstrom, eBay and other brands seemed to have FOMO (fear of missing out) on consumers' escalating Prime Day fever.
At the same time, too many industry analysts will focus on the discounts as being key to such success. While deals attract customers, retailers that want to win the holiday season should take note—Amazon during Prime Day showed it is advancing the space in three key areas.
Embracing a channel-agnostic mindset 
At this juncture in retail history, it cannot be underemphasized the way consumers think about their location at any given moment as part of the customer experience. In the last two years, Google mobile searches for "near me" that also contain the copy "can I buy" and "to buy" have jumped 500 percent. Constantly shopping on smartphones—in stores, on the way to work, in the office, at home—has made customers channel-agnostic. Brands need to be, too, particularly because customers expect order delivery and returns to be convenient for them. It's a crucial aspect of acquiring new patrons and creating loyal ones.
---
You May Also Enjoy:
---
Prime Day made evident that Amazon embraces the channel-agnostic mindset. For instance, it leveraged the physical presence of Whole Foods in almost every conceivable way. Through various online and offline channels, Amazon pitched Whole Foods specials for Prime Day several days before the big event while also offering $10 Prime Day credits for anyone who spent $10 or more in one of the grocery stores.
Amazon may want to consider expanding Whole Foods' role by offering all locations as a drop-off point for Amazon orders. This idea was reportedly in the works back in 2017 but hasn't happened. At the same time, Amazon has partnered with Kohl's and Rite Aid to provide convenient offline returns. With Amazon's strategy to seamlessly mesh ecommerce and offline retail, one can almost bet that Amazon's online returns will soon include Whole Foods stores.
Combining CX with the big TV spot
Amazon is transforming how "the big sales event" or "Christmas in July sale" is marketed, pushing the sales-event concept forward from the simplistic, blanketed TV advertising of years past to data-driven customer experience. It achieved this accomplishment by layering its Prime ads such as the buzzy Taylor Swift spot with personalized offers via email and its mobile app.
Indeed, Prime Day was the latest signal that personalization rules the day. If you had searched on Amazon for a wallet before the sales event, Amazon sent you a deal on an RFID-powered billfold. If you had searched for beauty products on the platform, Amazon sent you special offers for cosmetic kits. If you had searched Amazon for golf irons, your Prime Day deal included discounted Callaways or Pings. Like numerous retailers, Amazon email recipients were probably subject to a bit of FOMO due to the targeted offers.
Creating loyalty with first-party data and permission
In a span of 48 hours this week, Amazon gained millions of new Prime customers who will not only give permission for Amazon to use their purchase data but also their Amazon search data, as they use the ecommerce platform over time. The company's machine learning will take such intelligence, crunch the numbers and make offers that are increasingly timely and relevant. Because of this data, Amazon Prime Day will only strengthen the ecommerce behemoth's ability to improve personalization and drive loyalty among its newest customers.
Also, Amazon recognizes that it's imperative to keep customers up-to-date about where their order is in the fulfillment system. The company uses order tracking pages that are easily accessible via mobile and the web. Such useful features make customers feel like the data they give retailers permission to use is a worthy value exchange.
Amazon's Prime Day success shows the ecommerce player is increasingly channel-agnostic, focuses on the customer experience and leverages first-party data. These tactics help form a strategy that underscores why so many large competitors had FOMO and were scurrying to compete.
It's all about creating loyalty by taking care of customers during their path to purchase and after their order is placed. Consider that it costs six times more to attract new customers than it does to maintain them. Instead of focusing only on the best deals to keep up with Amazon, retailers should take note of what the retail giant does beyond the sale. No matter what time of year, it's important for brands to always think about the customer experience first.
Amit Sharma is CEO of Narvar.