5 Steps for Building a Consistent Brand Story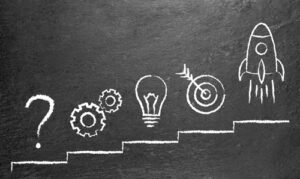 Marketers sell more than just a product—they sell the brand story behind it. But too often, that story gets lost on its way from the marketing department to all of the other teams.
FocusVision and InnerView recently conducted a survey of 250 marketing and customer experience professionals in mid- to large-size companies. Interestingly, the most surprising results didn't come from what these professionals were doing—it came from what they weren't doing.
One-fifth of companies indicated that they either hadn't tried or weren't aware of any company efforts to align their external marketing story among internal teams. Put differently, their product developers, salespeople and customer service reps have no clear idea of the brand story marketing wants them to tell.
That should be cause for alarm.
Every single person in a company represents the brand, especially the frontline teams that talk to customers about it each day. If those people don't feel confident in the story they're sharing, it can be detrimental.
---
You May Also Enjoy:
---
If your internal teams are getting several versions of your brand story, you don't have a brand story at all.
Even Amazon isn't immune to this phenomenon. The retail giant recently shut down Amazon Spark, its attempt at a social networking feature on its site that never took off. Why didn't it succeed? A lack of internal communication, for starters. Teams weren't talking about it, and the group in charge of promoting it simply wasn't doing that work. In the end, it just fizzled out.
Without a consistent story, success is impossible.
Customers have to be able to rely on the brands they engage with. They want their expectations to be met—or exceeded—in every interaction. Without consistency, customers won't feel like they can bank on you or your promises, and that does lasting damage to your brand.
So how do you make sure your story stays as powerful and consistent as it was meant to be? Put in the work to make sure your customer-facing teams are just as confident in sharing that story as the team that created it.
These five steps will help all of your teams start speaking with a single voice and telling a single story:

1. Align on external messaging.
What are you telling your customers? What are the key messages, themes and promises you're delivering with your marketing and advertising?
Don't put the focus on reconstructing your entire brand. You've likely spent plenty of money on that already. Instead, take the strategy you already have and activate it internally. Constantly reinventing your brand won't serve you. Committing to the brand you've already established and making it excellent will.
2. Measure attitudes and opinions.
Ninety-four percent of respondents to the FocusVision study said they currently commit both time and money to gathering customer research. This makes sense. If you're a marketer, you care what customers think of your brand.
A key question to consider here is "What does the person talking to those customers think about your brand? Do they think you deliver on the promises you're making?"
Think about the customer experience frontline teams are likely to deliver if they aren't invested in your product or story. Invest in them and benchmark how they view your brand so you can identify where gaps exist and then fill them.
3. Plan for change.
You can't train people to love your company. They have to feel it and experience it for that to be the case. While changing the perception of your brand internally can be a challenge, it's certainly possible. Identify champions or ambassadors at each level of your company to help nurture your brand story and act as a group that supports and guides peers in understanding it.
Change isn't a top-down exercise—it's a grassroots process. Having passionate brand advocates internally can help your story stay strong and spread throughout the organization in an organic way.
4. Tell the story differently.
Training is necessary, but it isn't inspiring. Email is efficient, but it's not always effective. If companies want team members to tell their stories in a compelling, consistent way, they need to deliver it to those people in a convincing fashion. Email and training are often the automatic ways to introduce messaging initiatives, but when it comes to generating enthusiasm, they leave a lot to be desired. And while they give employees information, they don't often inspire them to truly believe in the story they're telling.
Make it easy for employees to experience your brand. Ditch the tired sales tactics, and create team-based awards that incentivize your employees to tell the story consistently. By using more than just training webinars and instead gathering teams for live events or rallies where they can interact with and learn from their peers, you make the brand tangible, which makes getting behind it a lot easier for those representing it.
5. Measure again.
Remember, though, that asking employees for their input as a one-time tactic won't cut it. Instead, there should be an established mechanism in place to gather feedback from frontline teams on a regular basis.
Opening that dialogue with your teams makes them more agile, allowing them to adapt and learn as the brand story shifts into place. Best of all, those shifts will be directly informed by their input as they report when customer preferences change.
Your team members are the lifeblood of your brand. Bring them together under a singular story to watch it—and your brand—become stronger than ever before.

Chris Wallace is president and co-founder of InnerView.