2012 PRO Award Winner: Draftfcb for U.S. Postal Service
The P.O. box has been experiencing declining usage, and the USPS declining revenues, for three consecutive years. Thirty-four percent of all P.O. boxes were vacant as of 2011.
Yet with rampant identity fraud, the need for confidentiality of personal information has never been greater. With 70% of all small businesses run out of the home, the U.S. Postal Service saw this as a target segment with great promise.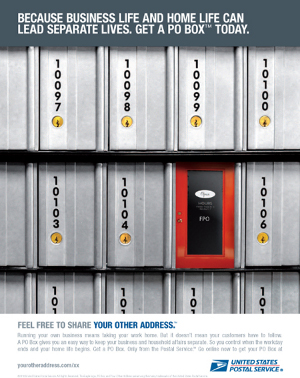 However, many consumers associated P.O. boxes with negative situations (homelessness, divorce)—a grudge purchase which customers acquired because they had to, not because they wanted to. The promotion would need to overcome these stigmas. With the $8.1 billion loss posted by the U.S. Postal Service in 2010, use of USPS assets had to be maximized.
Draftfcb positioned the P.O. box as a person's privacy getaway. Since most people have a desire for a second residence, they reframed the PO box as "Your Other Address". The visual showed an intriguing red door amid a row of silver doors.
A 20-week, 1100-post office campaign (Sept. 13, 2010 – Jan. 30, 2011) tested the concept in four key markets (Portland, Minneapolis, Tampa and Hartford) against a control group. Some 24 million customer visits were forecast for this period, making retail messaging a cost-effective activation of the target.
To simplify the purchase, applications were moved out from behind the counter, and also placed online. The faceless grey walls of the P.O. box lobby were redesigned into an inviting residence. A stanchion sign greeted customers, as did a textured doormat stating "Welcome to Your Other Address". This worked in tandem with a banner above the P.O. boxes and mini red door lug-ons placed on P.O. boxes that stated, "This could be your other address." A three-dimensional counter card on the writing table completed the loop, engaging customers and encouraging them to take an application.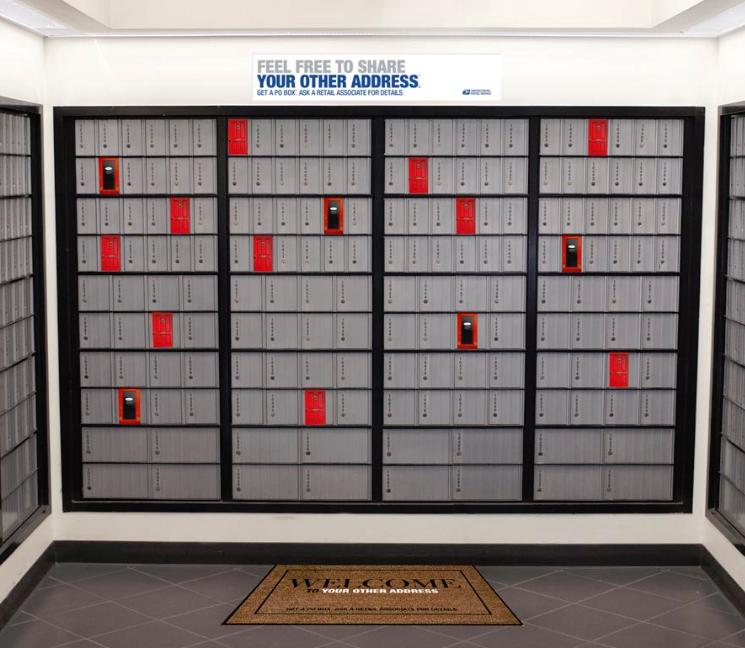 Retail associates were also directed to help by thinking of themselves as realtors helping customers find a secure new home for their mail. Direct mail delivered box applications to area households, a first for the Postal Service, while postcards drove them online. Print ads ran in business and consumer magazines, radio and online banner ads drove customers online to YourOtherAddress.com and to Post Office locations.
The 1,100 Post Offices incurred a 39% higher rate of P.O. box applications/renewals per 1,000 homes, outperforming control for 16 straight weeks. New P.O. box applications and occupancy were up 2.9% over the same period in the previous year. Since the test, "Your Other Address" has been rolled out to all 32,000 locations.