2012 PRO Award Finalist: Marketing Drive & Possible Worldwide for The Dannon Company
Kids love recess, but budget cuts have put recess and physical education at risk of being shortened or eliminated. Dannon saw an opportunity to help solve this problem and created the Rally for Recess program – a Q3/Q4 national competition where schools competed to win one of five new playgrounds. The winning schools also received the Ultimate, All-Day Recess party, including rides and activities. Plus, instant-win recess-related prizes were awarded daily to participants.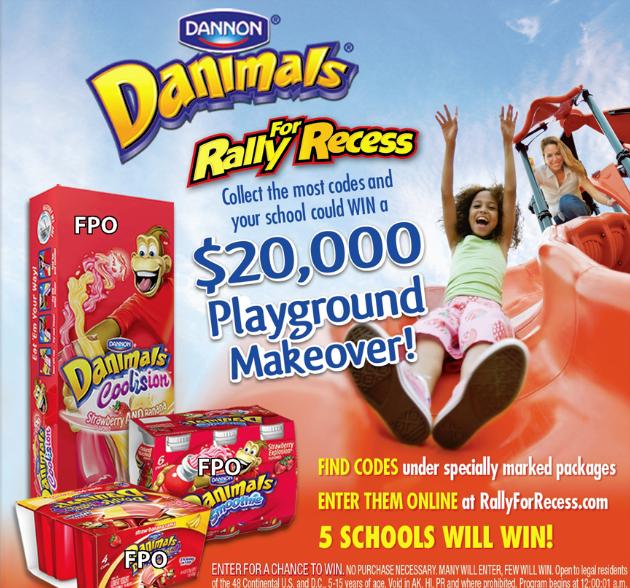 Under the wrap of every package in its Danimals kids' yogurt and smoothie product portfolio, consumers found a unique code and a call-to-action to visit RallyforRecess.com. Visitors created an account by providing a username and password, and selecting an elementary school from the national database. When the unique code was entered, a point was applied to the user's school.
As designed and activated by agencies Marketing Drive and Possible Worldwide, the contest created five separate competition leagues (Rhino, Bear, Gator, Wildcat, Badger) so schools of similar enrollment size could compete against each other an eliminate an unfair advantage for larger schools. The schools with the most points in each league at the end of the competition won the grand prize.
The site featured a contest leaderboard that tracked the top-performing schools in each league and enabled visitors to see how their schools were faring against the competition. The rankings changed in real time.
To inspire a rally in their community, consumers could print pre-designed posters or use the site's poster creator tool to design their own version. Nearly 20,000 posters were downloaded by the end of the promotion period.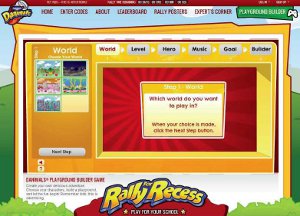 An online Playground Builder game let kids design their own game by selecting the world, level, avatar and music. In the Expert's Corner, pediatrician and child obesity expert, Dr. Joanna Dolgoff, helped educate families about the importance of play and getting the right nutrients for healthy childhood development.
The campaign message was extended through online banner ads, a national FSI, on-package and the brand's first-ever Facebook page. A robust PR campaign featuring Dr. Dolgoff helped bring the message to moms through a press release, radio news release and custom mailer sent to reporters, writers, editors and food influencers.
Brand spokespeople Dylan and Cole Sprouse, stars of the Disney show The Suite Life of Zack & Cody, helped inspire families to get involved in the competition through a :30 TV spot featuring the brothers racing through the supermarket to get as much Danimals yogurt as they could for their respective schools.
In total, consumers rallied for more than 42,000 schools, and entered nearly 348,000 codes. Danimals Smoothie, the flagship product, saw an increase in sales over the prior year. The Danimals Facebook page generated 120,000 Likes during the promotion (20% above goal).