2012 PRO Award Finalist: DFCBX for Kraft
On March 6, 2012, the Oreo cookie celebrated its 100th birthday. Research showed DFCBX that the basis of a birthday celebration was to bring back the spirit of childhood. Kraft focused on that as it worked toward its goal of making 1 million birthday moments happen globally and asked consumers to submit their moments online.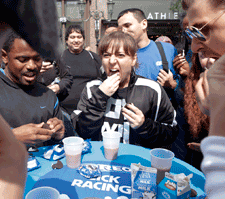 In conjunction with other agency partners, DFCBX executed seven simultaneous "flash birthday parties" in high-traffic business districts of seven cities across the U.S.: Los Angeles, New York, Chicago, Miami, Pittsburgh, Phoenix and Salt Lake City.
Passersby were teased on their morning commute with a giant 6 foot x 6 foot birthday present. The present featured a "gift tag" inviting then to join and release their inner child at 12 p.m. (11am in Los Angeles). The details were hidden from the media as well.
At noon, the birthday present launched party streamers 40 feet into the air immediately followed by a big Happy Birthday song to the guest of honor, the Oreo cookie itself, and a camera-ready character, Oreo Man. A flash mob performed an original "Happy Birthday, Oreo" dance dressed as live birthday candles, and thousands of samples of Oreo cookies and milk were provided to partygoers in celebration of Oreo's 100th Birthday.
Brand Ambassadors invited folks to engage in Oreo lick racing, where they would twist, lick and dunk with speed. Oreo playing cards were handed out, encouraging folks to stay and play a while—or bring some Oreo fun back home. Commemorative posters and Oreo handouts encouraged participants to share their Oreo moments on the Oreo Moments Gallery to kick off the "Million Moments Meter." The brand ambassadors also captured the celebration for guests to share on Facebook and Twitter. The event included a live performance by country music trio Lady Antebellum.
In 14 hours, 23,400+ attendees participated in lick racing. All 36,000 Oreo cookie samples were distributed; 21,000 Oreo party favors were shared; and 450+ Oreo branded digital pictures were posted on the Oreo Moments Gallery.
Combined with the teaser public relations campaign and digital/social outreach, the Oreo birthday kickoff events generated more than 600 million media impressions in the U.S. alone. The campaign is ongoing.