"Whatever Froots Your Loops" Takes on Bullying with United Way
Kellogg's Froot Loops and United Way have partnered for a local anti-bullying campaign.
To recognize the importance of National Friendship Day, Aug. 5, United Way of King County and United Way of the Battle Creek and Kalamazoo Region are staging a host of activities and events this week tied to the "United to Be Kind" program and the Whatever Froots Your Loops campaign.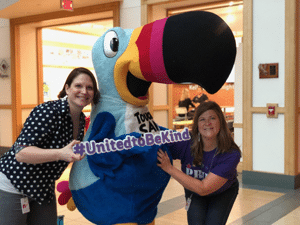 "Whatever Froots Your Loops means to embrace and encourage individuality—to be your authentic self and have fun while doing it," says Chris Stolsky, associate director, brand marketing for Froot Loops. "Young people who are perceived as different from their peers are often at risk for being bullied. Committing to the fight against bullying is a natural extension of our belief that we should all embrace our individuality and be accepted for what makes us unique as individuals."
---
Other articles you might enjoy:
---
At each location, attendees participate in activities and conversations that embrace uniqueness, individuality and friendship. Along with small discussion groups on being a good friend and anti-bullying, attendees make friendship necklaces from Froot Loops and other art activities that embrace #WhateverFrootsYourLoops. One activity includes creating a piece of art that expresses each individual's creative side, using Froot Loops or Toucan Sam. The top creative pieces will have their artwork displayed in Kellogg headquarters during Spirit Day.
Approximately 21 percent of students ages 12-18 experience bullying, according to the National Center for Education Statistics and Bureau of Justice Statistics. Both kids who are bullied and who bully others may have serious, lasting health problems, Kellogg says.
Anti-bullying is a social responsibility campaign taken on by a number of big brands, including Burger King and Ikea, who both staged a number of events and social experiments to draw attention to the issue.