Showrooming: Theft or Opportunity?
Just after last year's holiday shopping season, the term "showrooming" entered the business lexicon. Showrooming is when a shopper uses a smart phone to conduct competitive price-comparisons while in a store. How big is this issue? According to a study by Deloitte Consulting released earlier this year, "Roughly 58% of consumers who own a smartphone have used it for store-related shopping."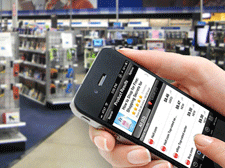 Understandably, many retailers with heavy investments in physical stores resent this practice. No business wants to spend on overhead, sales training and displays, only to sacrifice sales to a low-cost digital competitor. "Theft" is the term some smaller, independent storeowners are calling it. Chris Mahoney, owner of Christopher Fine Flooring in Wilton, CT, explains, "I can't compete with the margins of these online guys. Customers walk in my store and pick my brain about floor covering. Then they walk right out and try to find the same thing online cheaper. I should charge them for my time."
But it's not only mom-and-pop shops that are concerned. Big Box stores have been taking measures to protect themselves as well. Last January, Target began focusing on private-label exclusives, specifically to combat Showrooming. Because private label product doesn't offer apples-to-apples comparisons to online merchandise, attempts at Showrooming are foiled. Where comparisons are unavoidable, Target began matching online prices; other major retailers have followed suit, including Best Buy, Toys R Us, Walmart and Staples, to name a few.
While Big Box franchises have the luxury of price matching based on their economies of scale, the policy undercuts their margins—significantly. In fact, most price-matching policies are limited to certain competitors, timeframes or products. That way, the retailer can trumpet price matching while not ruining its business.
However, the deeper question is whether Showrooming should be treated as a threat at all. Deloitte's study found—remarkably—that "smartphone shoppers are 14% more likely to convert to buyers while in the store, than non-smartphone shoppers." In fact, Best Buy's Chief Executive Officer, Hubert Joly, sees Showrooming as an opportunity, "Once customers are in our stores, they're ours to lose."
Walmart sees opportunity too. To prove it, this holiday season the company is urging customers to get out their phones while shopping. Walmart's app is "geo-fenced" so that shoppers who use the app in store-mode will get interactive, location-sensitive content as they walk the aisles. Shoppers can use the app to access the store circular and maintain a running total of their cart, before they get to the register. Importantly, if the shelf is out of stock, app shoppers can easily click to order the item from Walmart.com. Slick move: the company captures the sale either way.
Deloitte's study showed that the closer a shopper is to the point of sale, the more likely she will use an app. But no app means no opportunity. Among shoppers using apps while in-store, only 34% use the retailer's own app. Clearly, savvy retailers must have their apps ready for shoppers, before they walk through the door. And many do. Macy's just announced its app, which offers in-store navigation of its Herald Square location (with more stores to come). Macy's app also provides shoppers incentives based on their location in-store, a list of upcoming events by department and a special Visitor's Pass discount.
Somewhat surprisingly, store-mode apps are nothing new to grocers, who have been blazing trails in this space for a few years. Meijer's Find-It app was piloted in 2010 and rolled out in 2011. The app allows shoppers to manage their grocery lists, synch their shopper card points, and find any one of the 300,000 items in their super store. In another example, Stop and Shop's store-mode app lets shoppers scan items before they reach the register, and then simply pay the total at the self-checkout (minus their shopper-card savings of course!).
Store-mode apps allow bricks-and-mortar stores to use their "home field" advantage with the in-store shopper. What are those advantages? First, the app user is a pre-qualified prospect. Not only is the shopper more likely to buy in-store, they are more likely to buy—period. According to Deloitte's The Dawn of Mobile Influence, "Among those who did not buy anything on their last trip, 59% of those who used a smartphone eventually made a purchase, compared to only 22% of those who did not use one." Savvy sales people can seize the moment to provide a tie-breaker to a hesitant shopper, by emphasizing service or bundling other goods.
Secondly, in-store selling can be enhanced with visceral experience in a way that digital selling can't. Think upbeat staff (Trader Joe's), toe-tapping music (Starbucks), and appetizing aromas (Auntie Annie's Pretzels). But beyond this, experiential selling is further enhanced with apps, as shoppers use their mobiles to explore the space around them. We have seen some consumer appetite for this with QR codes. But QR codes will seem primitive compared to the nascent technology, Augmented Reality (AR). AR will allow shoppers to engage with merchandise through interactive video, which can feature demonstrations, offer tips by celebrity spokespeople or suggest product occasions. But even without AR, a well-designed store-mode app transforms the shop into a kind of navigable, interactive space, which helps to sell product.
Finally, bricks-and-mortar sellers should never underestimate the power of instant gratification. Promotion experts have known for years that shoppers will go for a little less value now, over more value later. So, smart retailers will entice the buyer with the excitement of Now.
Joly was right—the in-store shopper is the retailer's to lose. Store-mode apps are creating real seamlessness between bricks and clicks, making the physical world navigable with a device. While this is exciting and opens the door to sales, communications and loyalty, it is only the beginning. "Aware" apps are paving the way for ambient computing, where information, entertainment, communications and opportunities to buy, will surround us at all times.
Liz Crawford, last month, joined Marketing Drive as vice president strategy and insights. She is also the author of "The Shopper Economy." She can be reached at [email protected].