Poland Spring Taps Instagram Love to Encourage Recycling
Less than 30 percent of plastic bottles get recycled in the U.S. and less than half of recyclables in U.S. homes get recycled.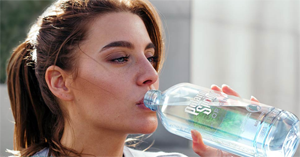 Those are stunning statistics and many brands are joining the efforts to encourage better recycling. Poland Spring and nonprofit The Recycling Partnership are trying to help by launching a recycling hotline on Instagram to assist consumers wading through the confusion of what can and can't be recycled.
Items in question can be photographed and posted by users on their Instagram feeds or stories, tagging #NotTrash and @PolandSpringWtr. The partners will respond with an answer.
"Consumers are at the heart of everything we do and that means we are constantly listening to them to understand their needs and preferences," says Yumiko Clevenger-Lee, vp and CMO of Nestlé Waters North America. "What we're hearing is that consumers are concerned and confused about plastic bottles. So, we're working on innovations like our recently launched and nationally available Poland Spring ORIGIN in a 100% recycled plastic bottle. And we're taking it a step further by working with organizations like The Recycling Partnership to help remove some of the confusion about recycling."
Poland Spring is also donating $150,000 to The Recycling Partnership to help improve curbside access to recycling and inspire more Americans to recycle more, and better.
---
Other articles you might enjoy:
---
To spread the word, through Aug. 23 in partnership with Z100's nationally-syndicated "Elvis Duran and the Morning Show," every time listeners post a photo on Instagram stories or their feed of them recycling an emptied bottle with the cap on or post a question relating to what can be recycled, and tag #NotTrash and @PolandSpringWtr, Nestlé Waters North America will donate an additional dollar per post to The Recycling Partnership up to $25,000. The promotion will air across the radio show's network of 75 affiliate stations nationwide.
Poland Spring's current packaging, which is made from PET plastic, is already 100 percent recyclable. In June, the brand made the commitment to convert all its individual-sized still water bottles to 100 percent recycled plastic by 2022.