Nontraditional Endurance Events Help Drive Sponsorship Spending
North American sponsorship spending on marathons, triathlons and related events is expected to total $102.1 million in 2012, up 6.7% from $95.7 million in 2011, according to sponsorship authority IEG.
Sponsorships of endurance sports like mud runs and adventure races are outpacing projected increases of 4.1% for the overall sponsorship industry this year and 6.4% increase for the entire sports category.
Three top factors are credited with driving the increase in spending and interest: The growing number of endurance sports participants, an affluent audience base and rising interest in health and wellness.
Recent deals range from six-figure naming rights of national event series to four- and-five-figure ties with grassroots events, IEG Sponsorship Report senior editor William Chipps said.
Pepsico is a large sponsor of endurance events as indicated by this chart below: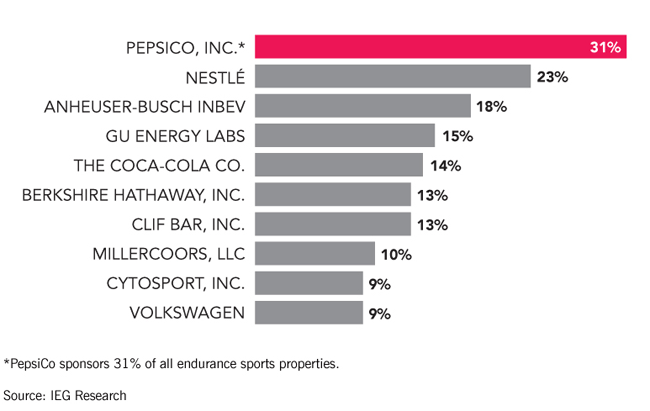 Chipps said new partnerships include Allstate Corp. and the Allstate Life Insurance 13.1 Marathon Series; HumanaVitality, LLC and the Kentucky Derby Marathon; and PNC Financial Services Group, Inc. and the Rock 'n' Roll Philadelphia Half Marathon.
Another factor contributing to the increase in spending is the growing popularity of other nontraditional endurance events such as the Dirty Girl and Color Run 5K events to Run For Your Lives, a property that bills itself as "the world's first zombie-infested obstacle race experience."
Food companies are more likely than the average of all sponsors: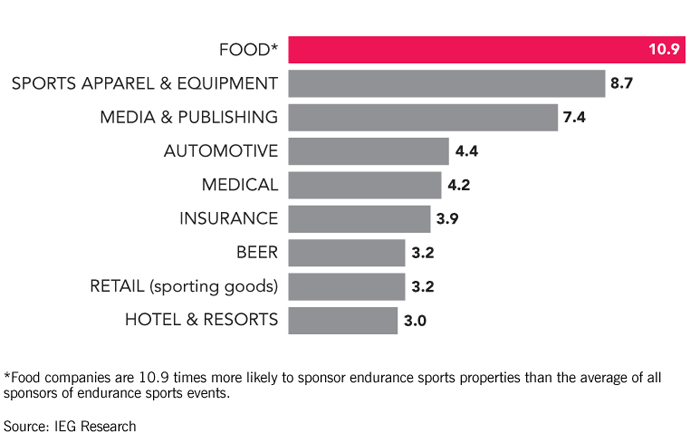 "The past year has seen an abundance of new endurance sports events, which in turn has opened up new sponsorship inventory," Chipps said.