The Marketing Analytics Challenge Comes From Within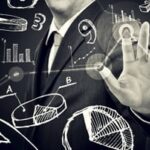 A whopping 45% of marketers either don't evaluate the accuracy of their analytics, or have no clue if their company tracks these numbers, according to "The State of Marketing" analytics, a new report compiled by Jon Cifuentes.
On VentureBeat.com, Dan Slagen of Crayon.co takes a look into the report, which reveals that 73% of marketers time is spent evaluating the past and the present. Future thinking? That's only 27%—but expect that to increase over the next year.