Lush UK Closes Social Media Accounts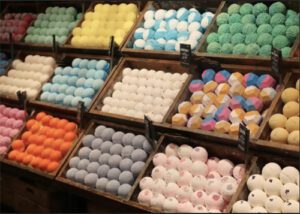 While many brands are rushing to increase their social media presences, Lush UK is doing just the opposite, closing several of their social accounts this week.
As the BBC reports, the British cosmetics seller said on Twitter it was "tired of fighting with algorithms" and didn't want to "pay to appear" in newsfeeds. LushUK has 202,000 followers on Twitter, 569,000 on Instagram and over 423,000 on Facebook.
Lush sells a wide selection of soaps, bath bombs, shampoos, skincare and other products direct and via retail. Instead of social, it says it will "cut out he middleman" communicate with "the Lush community" by email, phone or its website instead.
"This isn't the end. It's the start of something new," said the brand's farewell post on Instagram.
"We don't want to limit ourselves to holding conversations in one place, we want social to be placed back in the hands of our communities – from our founders to our friends," it added in a statement.
The move isn't a worldwide push for the company: Lush North America's social channels will remain active.
Oliver Yonchev, US managing director of Social Chain, notes that while he doesn't necessarily agree with the move, social media clearly isn't for every business.
"It requires resource, headspace, investment, and in some cases the outcomes don't justify the means," Yonchev says. "It's clearly a protest move that is reflective of a general industry sentiment against Facebook algorithms."
You May Also Enjoy:
---
As organic reach on many platforms is becoming more limited, he adds that many marketers are investing their resources into off-channel activity, such as working with influencers.
"Most social successes are no longer found on the feeds of brands but through general activity across social media," Yonchev say. "How other people are talking about your brand matters far more than how a brand talks about themselves."
This isn't the first time Lush UK has caused a social stir. Last year, it dropped an ad campaign drawing attention to the UK "spy cops" scandal after social commenters criticized the campaign as looking like an attack on the police.