The Importance of Diversity in Marketing Strategy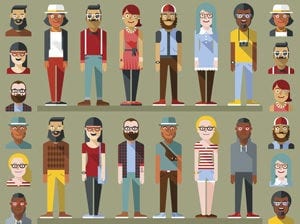 One thing missing from the brand strategy process in many companies today is diversity of talent. Not just diversity in race and gender but also diversity in experience, background, vocation and even age.
A simple example would be the recent brand fail by Doritos with their "ladies chip", or H&M with their "jungle" kids' t-shirts. If there had been more diversity among their marketing strategists, perhaps there would have been more debate and discussion among internal creative teams, and these sorts of campaigns would never have been approved in the first place.
Most marketing and communications strategies are created in a very similar way. A team of trained marketing strategists sit around a table for a few weeks, do their research and then work within a strategic framework, based on what they think will have the most impact in terms of the client's goals. These goals may be telling a story, communicating the brand's values or encouraging a specific action from their target audience, among others.
The traditional strategic planning approach to marketing campaigns we often see around the world is a clear example of why this isn't working. Consider financial services marketing almost anywhere around the glob: Remove the logos and colors in various advertising campaigns, and you find the messaging is all extremely similar. This shows that the strategic planning approach to all of these brands, even though they come from different marketing agencies, are all very similar.
Diversity can mean many things, from gender to race to age to experience or background. All these types of diversity have been proven to make teams more creative, but it's worth noting that deep-level diversity is one of the most powerful. This term, mentioned in an article by the Harvard Business Review, refers to diversity of personality, values and abilities.
So how do you get people with different skills, characters and personalities around that table? At our firm, we bring together participants with deep diversity (example: an anthropologist, an architect, an engineer and a marketing strategist) instead of a team made entirely of marketing strategists. The way that the anthropologist looks at a customer problem is totally different from the viewpoint of the engineer, and so on. Deep diversity in input drives a more robust and pure output.
Anthropologists are such an important part of what we do, because anthropology is the study of culture and people, observing how they behave and the challenges they face. But it also has many practical applications in a business context, because businesses are about relationships, and about solving people's problems. Anthropology also delves into the "grey areas" of problems, for example the fact that the sales cycle of a product may be longer because the purchase is a series of negotiations, decisions and triggers, rather than a yes/no answer. Anthropology can help tell the deeper stories that ultimately resonate with people.
Audiences all across the globe are diverse, so in order to reach and resonate with those diverse audiences, you need a diverse output. And that's impossible if you don't diversify the creative and strategic team that comes up with the campaign in the first place.
It's so simple really: diversify the input to the creative process, and you get a different, completely unique and powerful output. That's why diversity matters in the creative process.
Warren Moss is CEO of Demographica.
Related Articles:
View From the Top: CMOs Sound Off On Marketing Trends