How to Grow a Meaningful B2B Instagram Following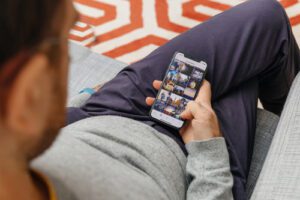 As a B2B marketer, it can be tricky trying to connect with buyer personas on non-business social platforms like Instagram. B2C companies can more easily watch and listen for their ideal customers using hashtags that would indicate a possible interest in their brand.
For example, someone posting a selfie in NRG Stadium using the hashtags #HoustonTexans and #GoTexans is likely to be interested in NFL Christmas swag being sold via Instagram's Shopify integration. But how often do you see that same person, who happens to be a web developer, posting pictures of their code editing software using hashtags like #coderlife? Possibly never. Yet she exists and is, in fact, on Instagram.
Let's walk through how to connect with your Instagram audience and grow a meaningful following.
Are You Ready for Instagram? How Your Brand Fits on a Visual Platform
First things first: At this point, you should have done your research and identified that your buyer persona does, in fact, use Instagram.
Your B2B offering might not have any concrete visual components that could translate into compelling Instagram visuals, and that's perfectly okay. There are other creative ways to visually represent your brand, content and offerings.
If you're able to use marketing hours to branch out onto social media, you should be rocking a foundation of some great inbound content. Your blogs, e-books, webinars and so on should all have some sort of visual component. Whether it's a hero image, cover design or slide, this is an opportunity for you to share your valuable content. Accompany the featured image with a text overlay or caption including things like a quote from the author, an excerpt or interesting statistic, a relatable problem or question solved in the content, or the title of the piece.
---
You May Also Enjoy:
---
Of course, if your offering itself can be visually captured, take this opportunity to show it off. You can use your caption to provide its value proposition—and embrace the platform by being quippy or funny if your brand's voice allows for it and it speaks to your buyer persona. If you have influencers that use your offering, feature them and a testimonial. Third-party affirmations go a long way on social media.
Ready to move beyond static images? You can use third-party platforms to draw attention by animating your photos, add audio clips and an animated sound wave to feature your podcast, or post video footage.
While planning out your posting strategy, don't forget aesthetics. Does each image match your brand's guidelines? How do they look together on your feed? Keeping the imagery cohesive will strengthen your brand and audience recall of it.
Providing Valuable Content to Your Audience
Although creating visually appealing content is extremely important on Instagram, it doesn't replace the value that you need to be providing. Determine what you'd like the outcome to be from each post. Is it to educate, entertain, raise awareness or build brand authority? Are you hitting your goal with that pretty picture you just posted? We've already talked about your inbound content, so how else can you provide value?
Let's start with Stories. Stories are a great way to notify Instagram users about an event such as a webinar or conference you're hosting or sponsoring. You can curate professional videos and have them play through a continuous stream of the 15-second stories, or produce them in the moment and post instantly from your smartphone. Bonus: If you have more than 10,000 followers, you can add a link from your stories and users can swipe up to visit the URL. If you have employees or clients that are active on Stories, encourage them to tag you when appropriate so you can repost on your own Stories. Don't forget to create Highlights by category that live on your profile and allow your audience to re-watch them after the 24-hour disappear mark.
Show off your company culture and employer brand. People have access to all kinds of information about your company online and can see you and all of your competitors with one click. Although your value proposition should be clear throughout your website and social presence, it's also helpful to feature your company values and culture. More and more people are making purchasing decisions based on not only the quality of the product/service/experience and its price, but the morality of the company as well. Do you have mentor programs? Provide community service? How about sustainable practices? What are you doing to better the world beyond providing it with your goods/services?
Remember, at this point, you've identified that your buyer personas are present on Instagram. It's possible that your future and potential job candidates are also some of the billion monthly active users perusing Instagram. By showing off your company culture, including things like employee events, you're strengthening your brand and opening the door for inbound recruiting.
Connecting with Your Buyer Personas
Identifying the hashtags your buyer persona uses and then scrolling through the associated content is a great way to start connecting on an individual level. Try searching for hashtags associated with industry events and conferences that your buyer persona attends, even if you won't be present (but it's better if you are). Don't just add the relevant hashtags to your posts, instead view the posts your buyer personas are creating and find ways to interact with them. Avoid commenting something spammy that robots post all over Instagram like "great picture" or "Love this! Check out our page." Leave a meaningful comment without selling yourself. This is a great way to build brand awareness and show that your Instagram account has an actual human behind it, ready to build relationships.
Leading Your Buyer Personas Back to Your Site to Nurture
You might be thinking, "Well, this is a great strategy to grow my following, but how can I connect this strategy back to my lead generation requirements?" Instagram doesn't make it easy to link to your site (outside of your bio) unless you have over 10k followers, pay for advertising, or are an e-commerce company using Shopify. That's where third-party services come in handy. You can use tools like Later or Linktree to create CTAs and link your Instagram posts out individually. This will allow you to drive your audience to sign up for the webinar you're hosting, read your latest blog, or download your most popular e-book. And this, my friends, is how your Instagram account has just turned from awareness and branding to a lead generation machine.
Nicki Kamau is director of marketing for SmartBug Media.