How Effective Are Your P-O-P Displays?
Although the prevalence of online shopping has significantly grown in the last few years, consumers continue to make most of their purchases at "traditional" brick-and-mortar retail stores. In fact, according to the PwC's 2015 annual survey, only 27% of consumers shop online weekly, as the majority of shoppers still want to be able to touch, feel and pick up the physical products before purchasing.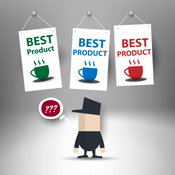 However, when shoppers are browsing store aisles, the multitude of brands competing for their attention can be overwhelming. This is why designing and deploying effective point-of-purchase (P-O-P) displays is crucial for brands to stand out, differentiate themselves from competitors and inspire impulse buys or a brand switch.
To get the most out of in-store P-O-P displays, consider the following design and deployment questions:
1. Am I reaching the right consumers?
If you're targeting middle-aged men, emotionally driven language may not grab this audience's attention as effectively as messaging about value and benefits, or even product demos. Brand marketers must keep their target audience in mind when making all design decisions, from colors and fonts to graphics or videos.
Sometimes it takes more than a couple lines to explain why your product is superior to the competitor's. Photos, video or interactive screen demos can be the perfect solution to show your value proposition in a short, easy-to-follow format. Humanizing the display by relating your product to shoppers' everyday lives can also help drive interest. P-O-P displays are meant to increase in-store sales, so it is essential to understand your audience's likes, dislikes and preferences, and then tailor displays accordingly.
2. Is my display durable?
Unfortunately, all too often brands take the less expensive route and manufacture in-store P-O-P displays with low-cost materials that can be easily damaged, such as cardboard. Despite the sticker shock that can accompany high-quality displays, marketers must remember that you get what you pay for. A cardboard sign may be easy on the budget at production time, but the ROI quickly diminishes if it only lasts for half the intended lifecycle. Whereas displays made with higher quality, more durable materials can withstand transportation, setup, cleaning and frequent in-store contact.
In marketing, perception equals reality, and P-O-P displays are no exception. When shoppers see well-designed P-O-P displays, they often make a mental connection between the quality of the display and the associated product. In turn, cheaply made displays can have an adverse effect on consumers' opinion of the promoted product or brand on the whole. For companies trying to improve quality perception, semi-permanent P-O-P displays may be the right solution. These longer-lasting in-store fixtures are designed to be easily cleaned and restocked so they always look brand new. Long-term displays also reduce the need for frequent repairs and replacements, resulting in greater success and higher ROI.
3. How am I tracking our in-store efforts?
Much to the dismay of marketers, it is almost impossible to determine if in-store P-O-P displays are executed correctly. Brands rely on store employees and display installation companies to follow their instructions, but are unable to monitor every store nationwide. Instead, they end up comparing program costs to net sales gains, or not tracking displays at all.
Brands must oversee in-store efforts with a display management solution that tracks the entire lifecycle of P-O-P displays in real time. These tools allow marketers to:
• Quickly organize materials for each display and provide clear setup instructions
• Communicate with retailers to validate that each display is installed in the correct store location
• Confirm that fixtures and displays are properly installed and maintained throughout the campaign
• Send retailers notifications when it's time to tear down the displays
• Have complete transparency from beginning to end throughout the entire development, shipping, installation and deactivation processes.
A key element of any successful in-store marketing campaign is maintaining a 360-degree perspective, with the consumer, retailers and your own team's points of view in mind. By carefully designing, deploying and tracking your P-O-P displays, you will maximize consumer engagement and ultimately boost brand awareness and product sales. When done well, P-O-P displays can play a significant role in turning shoppers into loyal brand advocates, which all marketers strive to achieve.
Stephanie Carson is the chief marketing officer of Blue Calypso, a location-enabled mobile engagement solutions company.