Delta Faucet Brand Manager on Events as Part of the Mix
For Delta Faucet, one of those unconventional places for it to market its wares is one of the messiest events around, the 5K Warrior Dash mud run. Delta is partnering with five of the events this summer where hundreds of people stomp, jump, slide, slip and thrash their way through the track. At the finish line, each and every muddy runner is greeted with a shower, courtesy of Delta Faucet, if they so desire.
"Rather than them using a pond or hose to clean off, we said let's provide them with a shower station and be part of the Warrior Dash," says Missi Tate, senior brand manager at Delta Faucet. "It's a great fit from that perspective, but also that's the demographic that we go after—ages 25 to 54 both male and female. Warrior dash really fits in that sweet spot."
For the Warrior Dash last month in Crawfordville, TX, sports marketing firm rEvolution built a massive high-end shower station with wooden decks where Delta could show off its 164 Delta H2Okinetic showerheads that use up to 40% less water than a standard showerhead.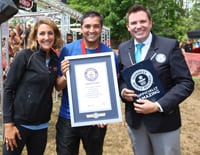 To make the Delta event even more exciting and to tap into runners' deep-seated competitive drive, the call went out to set a Guinness World Record title for the most people showering simultaneously at a single venue. Some 331 people took advantage of showering off, breaking the old Guinness record of 300.
While Delta Faucet had plenty of branding around the showers, it wanted to move the mud runners farther along the customer journey toward purchase. Knowing that the runners wouldn't be able to carry cellphones through the mud, a photo booth was set up at the end. There consumer information was captured to email the photos. Runners were also asked to opt-in to receive additional information from Delta Faucet.
"We usually get about 10% to 15% opt-ins, but we were well above the 50% range," Tate says. "That gave us a data point to be able to contact those people again and we offered them a rebate."
So how do the Warrior Dash events fit the brands multiple pathways to purchase strategy?
"It was just a different experiential way to get after a group of consumers," Tate says. "As we know, not all those consumers are going to touch us in all those different points, so we try to think outside of the box. It comes back to being where that consumer is."
Dozens of Warrior Dash events take place each year, and rEvolution and Delta will be at a total of five, but will a smaller footprint of 40 showerheads. The Crawfordville race is the third event with two previous races taking place in Maryland and Illinois, and two coming this summer in New Jersey and Colorado. Warrior Dash events help raise money for St. Jude Children's Research Hospital.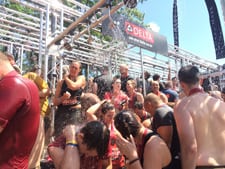 "It's all about experiencing our products and for our industry that's really tough," she says. "Showrooms will have working units, but it was another way to get people to experience our products. It's about how to get it in their hands. If they loved what they had there hopefully we'll see more people purchasing our products."
In addition to this experience, every campaign Delta launches still relies on TV, print, social, in-store, events, online and through influencers to ensure it is catching the consumer wherever they may be.
"It is an in and out path and we see people doing a ton of research," Tate says. "Our goal is to be in all those different touch points so we can be there when the consumer is because everybody's path seems to be different. We always launch with a 360-degree campaign to make sure we're in all those places but we know that's not how our customer is shopping."