CPGs Offer Fewer Coupons with Lower Offers: Study
In the first half of 2012, consumer package goods marketers offered fewer and less attractive coupons to consumers, which brought the past three years of redemption volume growth to an abrupt halt. As a result, some of those brands that hit the brakes handed a competitive advantage to those who kept their sites on satisfying shoppers' continuing strong demand for value. Let's take a look at the 2012 mid-year coupon report from NCH Marketing.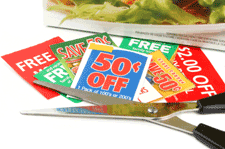 The volume of coupons consumer packaged goods marketers are pumping out has remained relatively steady this year, down only 1.2% over the first half of 2012. A total 165 billion offers were pushed out into the marketplace compared to 167 billion for the first half of 2011. However, depending on the brand, company and category there was considerable variability.
Marketers, however, are making the offers less attractive with less savings for consumers but allowing a pinch more time for redemption. For example, during the first half of 2011 the average face value of a CPG coupon was $1.19 compared to $1.13 in 2012. Average duration to redeem the coupons this year is 9.8 weeks versus 9.7 during the same time frame in 2011. The Health & Beauty Care category made even deeper cuts, lashing expiration periods 17.1% to 8.7 weeks and dropping the average face value 4 cents.
While the decline in value of a single coupon may be just pennies, the overall drop is consumer savings, $200 million so far this year, is significant.
"In some cases, marketers may have overreacted to past redemption cost and shifted course," Charlie Brown, vice president of marketing for NCH, said. "As well, some marketers may have tightened their typical expenditures in order to allocate funds toward Olympic advertising and sponsorship promotions."
CPG coupon redemption is down 11.4%, compared to growth of 2.9% on year ago. No retailer formats were excluded from the fall off: grocery stores (-14.6%), mass merchandisers, including supercenters (-6.9%), drug stores (-12.8%), military commissaries (-8.4%), all other, including warehouse clubs, convenience, variety/discount (-0.8%). NCH suggests that the less attractive offers and divergent marketer strategies have significantly impacted redemption so far this year. However, those brands that kept the flow of coupons moving out to consumers may have found a competitive advantage, which may have come as a surprise to some of the other CPG marketers.
"Brands have used tactics to outmaneuver their competitors who may be preoccupied with budget management, and the actively promoted brands have been rewarded with large redemption growth," Brown said. "Those who curtailed redemption may have left the door open for competitors to sway purchase decisions by leveraging the strong consumer demand for value. And, the competitors are no longer limited just to other national brands. They now include private label, alternative meal sources, dining out and shopping online—many of which use coupons to compete as well."
CPG marketers still find that FSIs are the best media to distribute coupons as evidenced by the report finding that 89.7% of coupons reach consumers through FSIs. Another 4.1% can be found in in-store handouts, 2% through direct mail, 1.8% via magazine ads and 1% through on-pack offers.
Coupons remain one of the most effective marketing methods to encourage consumers to try a new product or revisit a product they may not have thought about or purchased in some time. As an example, True Lemon, a challenger brand to the well-saturated $1 billion powdered soft drink market, is using coupons as a major component this summer in its $5 million national campaign to encourage consumers to try what it promotes as a "natural alternative to products like Crystal Light."
"People have less disposable income and they are more cautious about what they buy, so if you give consumers a coupon they don't feel like they're putting as much on the line for a product they are just finding out about or have never tried before," Heidi Carney, vice president of marketing at parent company True Citrus, said when the program launched earlier this year.
Going forward, NCH predicts that consumers will continue to feel a great deal of uncertainty in the economy. In June 2012, BIG Research found that 47.8% of consumers are more pragmatic in their purchasing and that the majority of consumers, 56.1%, continue to buy just the necessities when at the store.