Articles by Allbriton Robbins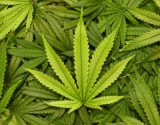 The cannabis industry is censored by most major advertising channels. Getting back to the basics can build those audiences.

by
Chief Marketer Staff
- CM200


by
Chief Marketer Staff
- CDP
Chief Marketer Videos
This campaign, Netflix at AsiaPOP Comicon from Jack Morton Worldwide, landed a 2019 Gold PRO Award.
SIGN UP FOR UPDATES!
Fill out the fields below to receive the latest news and special announcements from Chief Marketer.