Amazon Prime Video & Studios Global CMO Talks Inclusive Storytelling
When it comes to telling more inclusive stories, there simply are no shortcuts. For brands to hit the mark, they must listen to audiences proactively and with genuine curiosity.
That's the thinking behind the marketing strategy of Amazon Prime Video & Studios Global CMO Ukonwa Ojo, who spoke at the Forbes 2021 CMO Summit on Sept. 14 during a conversation dubbed "Inclusive Creativity: The Power of Diversity and Brand Marketing." "Care enough to really dig under the surface. Care enough to really ask the questions," she advises. "Because you can always tell when a brand is trying to check the box and when a brand genuinely cares… Spend time talking to them, spend time reading what they say and then caring enough to act on it."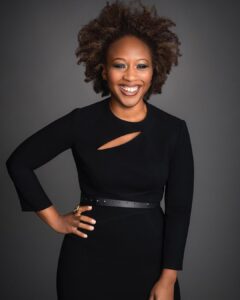 She also recommends that brands—once they have uncovered a powerful insight about their audience that's unique—must be brave enough to follow through with making it a reality. "A lot of brands will over-index with a particular audience… but then taking a big swing there, for some reason they don't take action. If you make a mistake, figure it out and keep optimizing along the way versus being paralyzed," she says.
For Amazon Studios, some of those recent big swings include a global marketing campaign for the film "Coming 2 America" that partnered with Black-owned businesses as well as supporting the first "Cinderella" film to feature a Latina protagonist, played by singer Camilla Cabello. "It's taught us that representation is really important. To have her as the lead actress is a powerful moment for Latina girls and our Latino customers. To be the service that gave that representation and reality of a dream to young girls was really special," Ojo says. What's more, it benefits the brand in the long run. "I've always felt that tapping into diverse audiences is good for business. It means we get to expand the universe that we talk to about our products."
But in order to reach audiences authentically, brands need to back real insights from those communities—and that means backing internal representation as well. "You need people on your team that are from that community so that they can hear the words that maybe are not apparent to someone who's not of the community," Ojo says. "When you do that, then you can have powerful, anecdotal, data-driven insights that you can leverage to craft products that will really work for the community or craft messages that they will immediately see and resonate with." It's the marketer's job to provide that link between audiences and products and services, she believes. "I see us as 'matchmakers at scale:' we take brands and products and we introduce them to people. And when we're able to do that at scale with a lot of different communities, that's how you expand your audience over time."
This approach can also help mitigate tone deaf messaging and support diversity, equity and inclusion initiatives without coming off as inauthentic. "You reduce your chances of making mistakes when you have people that have a seat around the table that are part of the process and the decision-making that are from the same communities that we're trying to reach," according to Ojo. "We're very intentional about building our teams to reflect the communities that we're trying to reach. One, you get really powerful insights, but also, they keep you from making really big mistakes."
Another way to reach audiences authentically is through securing brand partnerships that reflect both companies' shared values and allow you the opportunity to tap incremental audiences. For instance, for "Coming 2 America," Amazon partnered with Black-owned hair care brand Bevel, several Black-owned restaurants and HSTRY, the clothing brand from rapper Nas—to name just a few. "When we want to speak to specific audiences, we also want to make sure that we are partnering with brands that are of the community," Ojo says. "At the end of the day, it comes down to shared values and the opportunity to talk to audiences that you may not ordinarily have access to."