Augmented Reality Adds Impact and Measurability to Tennessee Titans' OOH Promotion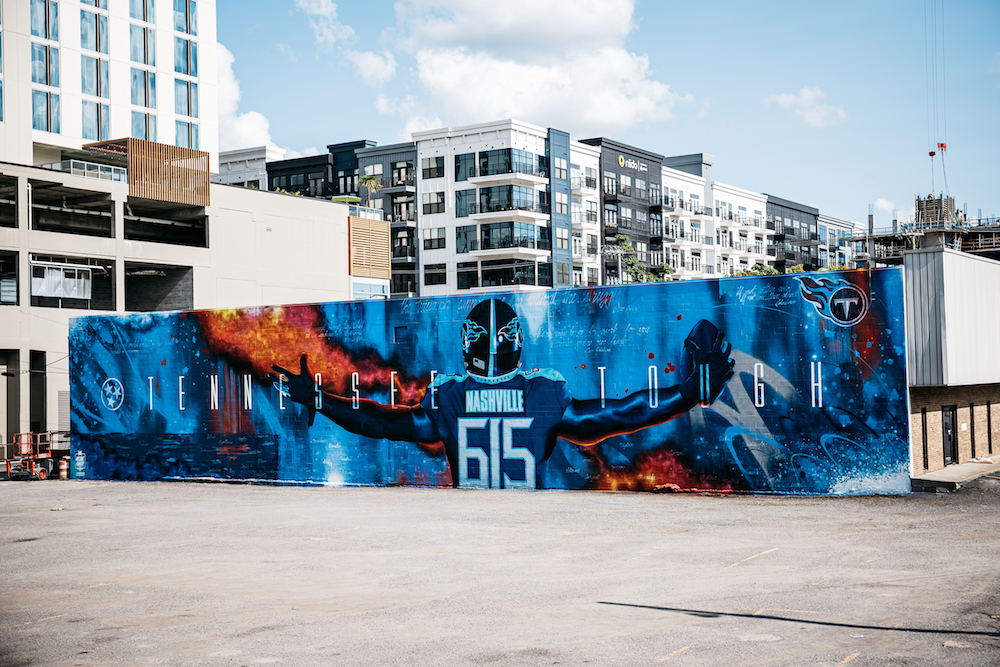 The midst of a pandemic might not seem like an ideal time to promote a brand with an OOH mural, given the relative lack of foot and automobile traffic. The Tennessee Titans NFL team begs to differ, however—especially once augmented reality was layered onto their mural, maximizing its impact and making that impact measurable.
Painted on the side of a building opposite the Music City Center convention complex in downtown Nashville, the 135' x 26' mural, titled "Tennessee Tough," was painted by local artist MOBE to honor not just the football team but noted Tennesseans such as John Lewis and Wilma Rudolph. The concept preceded the pandemic, says Jennifer Hinkle, the Titans' Senior Director, Marketing and Digital Strategy. In early 2020 the team was looking to add to the dozens of murals already decorating Nashville, then in early March the city and other parts of Tennessee were hit with a series of tornados that killed 25 people and caused more than $1 billion worth of damage.
"We immediately created a Tennessee Tough campaign as a rallying cry," Hinkle says. "There were a lot of people who were just rolling up their sleeves and getting their hands dirty. We felt Tennessee Tough was also emblematic of our team. For us it was really important to show the Titans as a pillar of the community."
The Titans also wanted its mural to stand out from the others throughout the city, so it called upon agency MVP Interactive to add some sort of extended reality component. "But it wasn't till the summer that it gelled," Hinkle says.
In the meantime, of course, COVID-19 meant that fans wouldn't be able to attend Titans games in person. That made creating a promotion outside of the stadium even more important, says James Giglio, MVP Interactive's founder and CEO. Instead of the stadium being a destination, they'd make the mural one.
MVP implemented AR technology so that, beginning in September 2020, visitors to the mural could scan a QR code with their smartphone, then look through the phone's camera to view an enhanced version of the mural. Viewers would see the football player who is the focal point of the painting move about, quotes from area notables pop up, and the names of all 95 Tennessee counties appear as an honor roll. Because the technology is web-based, viewers do not have to download an app to enjoy the enhancements, making this the NFL's first such AR experience.
To keep the experience fresh, the Titans refreshed the AR element for 615 Day, a celebration of Nashville held annually on June 15 ("615" being Nashville's area code). The team plans to refresh it once again in time for this season's kickoff week. Such updates are a much lighter lift in terms of effort and expense.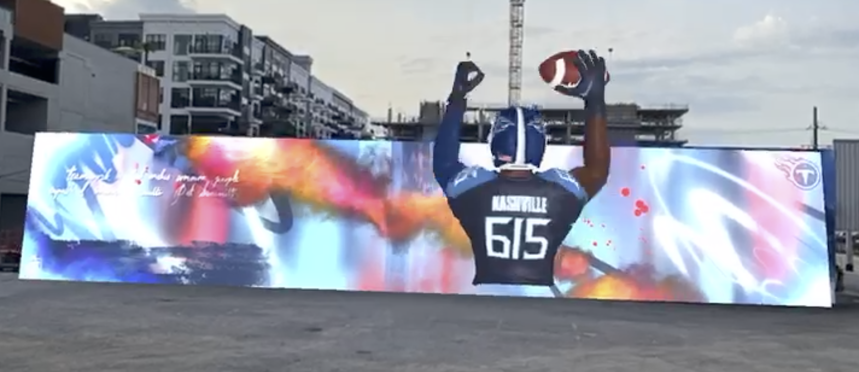 ROI wasn't really a consideration when creating the mural. Nonetheless, "when making an analog experience digital, you are able to measure the impressions to a degree," Giglio says. In addition to tracking the number of people who scanned the QR code, MVP tracks social analytics with hashtag promotions. "And we're now able to integrate a Google Analytics piece that can show some extension beyond the usage—social click points, where it's shared, if there's any possibility for conversion," Giglio adds. He estimates that the activation generated "hundreds of thousands of dollars in earned media and sponsorship opportunities."
The Titans haven't monetized the mural yet, though there are "some opportunities with sponsors that might be interesting to do," Hinkle says. And that can make it easier for the Titans and other brands to invest in additional AR activations. "A lot of times people perceive this as something that's hard to get off the ground or extremely costly. We can actually show a return on investment. This is the way things are trending, and it's not mission impossible anymore," she says. "Most businesses are after that younger, Gen Z audience, and this is the type of thing they're engaging in."
And not just Gen Z. People of all generations are eager to be out and about again but still harbor reservations about certain aspects of doing so, such as using touchscreens at live events. "There's this pent-up demand from the consumer base, and marketers are certainly trying to corral and harness that while being sensitive to certain elements," Giglio says. "Marketers are taking a much more holistic approach: What can we do on-site and be safe, and then what can we do off-site to tie it all together."
As a result, he's seeing an increased demand for hybrid promotions. Another trend, he says, is "the revitalization of the QR code." Not only are such codes COVID-safe and sanitary compared with touchscreens and other tactile elements, but they can also be paired with a second screen and can be used to activate anything from coupons to games to, yes, AR murals.