Marriott VP Digital Marketing on Digital, Apps and Guests
Andy Kauffman is a digital guru. He is vice president, digital marketing & Marriott.com for Marriott International working as the general manager for Marriott.com. He oversees everything from product strategy, digital acquisition, digital personalization and the digital brand strategy teams that collectively manage demand generation programs, one-to-one marketing, digital marketing and engagement strategies for Marriott's portfolio of global brands. Here he talks about how Marriott's strategy plays out across digital.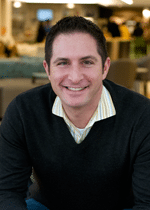 CHIEF MARKETER: How does a combination of data, insights and timing enable a level of personalization that's key to driving Marriott's bookings and business growth?
KAUFFMAN: Our approach, as always, starts with the guest and a desire to better serve their needs and deliver on their preferences. Now, we're extending that culture into the digital age by listening, learning and responding to our guests' needs using data, intelligence and compelling content to provide a more personalized experience. We use data and insights to present the right message to the right guest at the right moment across their journey with us.
CM: Can you give me an example?
KAUFFMAN: Last year we became the first hospitality company to integrate Facebook's Dynamic Ads, enabling us to deliver more personalized content to travelers in the largest social community on the planet. We customize the content displayed based on an individual's shopping behavior. We started with driving bookings and now are extending this personalized approach to additional activities such as signing up Marriott Rewards members or downloading the Marriott Mobile app to take advantage of benefits like mobile check-in and checkout and mobile requests while on-property. Through this guest-centric approach, we can engage with our guests continuously and ensure our content is relevant to their needs and wants in the moment.
CM: What is the custom-built M Live real-time command center and how do you use the data/metrics it gathers?
KAUFFMAN: M Live is our real-time social media command center that launched at our headquarters in Bethesda, MD, in 2015. We have recently added a studio in Hong Kong and one for our Caribbean and Latin America region with two more set to open in Europe and the Middle East. Our global approach means we can better engage our guests wherever they live, in-language, and in a way that is culturally relevant. The power of M Live is that it gives us the opportunity to go from speaking one to many to potentially speaking one-to-one.
CM: What types of data do you track?
KAUFFMAN: We track conversations, trends, global performance, marketing campaigns and brand reputation across social platforms and use that data to identify opportunities to interact with customers in a personalized way that enhances their travel experience. Marrying the data we collect on social media through M Live with the rest of our guest data to create a holistic engagement at any moment in time generates loyalty and revenue.
CM: Where and how do tech innovations and hospitality collide, taking culture, language and locale into account?
KAUFFMAN: The modern consumer is not necessarily on a linear journey, nor do they interact with us only through one device or Marriott channel. We now have many more touch points to engage with guests before, during, and after their stay—from Marriott.com, to our Marriott Mobile app, to Facebook, to Snapchat, to We Chat, to TripAdvisor to face-to-face dialogues when they stay with us. Each interaction is an important moment for our guests and for us to enhance our relationship with them. As a global hospitality company, our culture is to strive to better serve our guests' needs around the world. We are extending that core value into our digital interactions and delivering more personalized engagement and services.
CM: Can you provide another example?
KAUFFMAN: We know that some guests will always want to interact with our associates at the front desk, while others may prefer to use their mobile device to check-in and out of our hotels. As a result, we've built self-service capabilities into the Marriott Mobile app that empower guests and give them more control over their travel experience. We understand that different guests have different needs at different times, and technology is a great way to recognize those personal preferences and customize our guest service model to each interaction.
Those personal preferences extend to language and culture as well. Marriott International is a portfolio of 19 brands with more than 4,500 properties globally, so language, culture and an understanding of what's locally relevant—and then delivering on that knowledge to best serve our guests around the world—are core to our business. One example of this is our Mobile Requests feature in the Marriott Mobile app. Guests can choose from a pick-list of services and amenities, or communicate in real-time with an on-property associate, in English, Spanish, French, Chinese, and German. In addition, our M Live studios around the world enable us to deliver regionalized, in-language content to engage with guests in a more culturally significant way.
CM: What is your favorite new marketing technology?
KAUFFMAN: For me, it is not any one technology, rather a philosophy shift that is being enabled through technology advances. We can now engage in guest-centric dialogues through digital interactions across devices that use data, insights, and content to deliver what a guest wants to hear, which may or may not be what the marketer intended to say. I like to say that we are moving from pixels and placements to true people-based marketing and leaving the days of "how can we help you?" behind us. The combination of data and content to deliver personalized experiences is our formula for people-based marketing. Clearly, this is enabled by technology, but also by a mindset shift combined with changing how we work cross-functionally across our teams.
CM: What are your thoughts on the ability and capabilities of measuring marketing campaigns today?
KAUFFMAN: Measurement, research, and insights are core to the Marriott culture because it's what enables us to deliver better service and a more personalized experience to our guests. Data drives our technology development process and enables us to optimize our marketing effectiveness. We have embraced a philosophy of "data over opinion" and now we are continuously testing, evaluating, and adjusting our digital marketing and website experiences and changing course if something doesn't improve the guest experience. Proofs of concept are an excellent way to test the viability of new services at a lower cost. What did guests have to say about the new features or the new way they are interacting with the brand? Does the approach work in all markets? New measurement techniques have given us many different ways to validate our innovations with customers. Ultimately, we are moving as quickly as we can, using a test and learn approach to deliver the best experience for our guests.
CM: How has your digital marketing team changed over the last few years?
KAUFFMAN: Our team has expanded and evolved over the past few years. We now organize around the guest and deliver a relevant and connected digital experience across all of our touch points. No longer are the days of tossing traffic over the wall and hoping it converts. We now organize our team in a way that enables us to connect our digital marketing to the Marriott.com and Marriott Mobile app experience. We strive to maximize the effectiveness of the guest journey by ensuring that we have full alignment on our objectives and measure our performance through a common set of goals. This approach is good for our guests, and it's also good for our associates as it enables more cross-functional interactions and provides many opportunities for personal growth.