What's on the mind of most CMOs today? What isn't on the mind of most CMOs today? From data privacy to marketing technology to personalization to consumer trust to customer experience, today's marketing executives have no shortage of skills to master. We spoke with CMOs from Visa, Personal Capital, AKT and Zoom to pinpoint the biggest trends in marketing for 2020—and the crucial skillsets that modern marketers need to get ahead.
Speaking of CX, earlier this month CES presented its annual tech-fueled playground filled with personalization and enhanced customer experiences, from Samsung's ball-shaped cutie-pie robot named Ballie to foldable laptops to Alexa-enabled cars. Check out these 10 technology takeaways just for marketers.
Of course, the innovations at CES are always intoxicating. But they bring with them reams of new data that will need to be managed—and protected. Modern marketers are charged with being more data-driven than ever before. And with Google Chrome's decision to phase out third-party cookies, consumer privacy concerns will continue to challenge marketers to adapt.
We also learned this week that TikTok is taking over the universe. In 2019 alone, the app was downloaded more than Facebook, Messenger and Instagram. It's one of Hootsuite's top five social trends to look out for this year, along with brands taking a stand and social performance marketing cropping up as a skillset.
Until next week,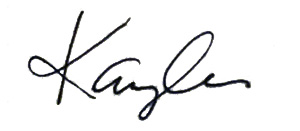 Kaylee Hultgren
Group Content Manager
Chief Marketer