Right Now, In a Galaxy Close to You, Rogue One Marketing is Here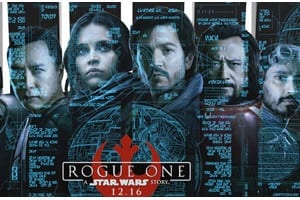 The marketing juggernaut behind "Rogue One: A Star Wars Story" is impressive, to say the least.
But my household, "Rogue One" doesn't really need any marketing. All of us exhibit extreme nerd tendencies, and with boys ages 11 and 13 in the house, anything "Star Wars" is top of mind at any given moment.
I suspect it is the same for many families. (Of course, my perspective is skewed, given that I hang out in comic book stores and regularly read websites like Bleeding Cool.) Still, to make sure everyone knows about the film, Disney has spent quite a few dimes getting the word out.
TheDrum.com looked at some of the weirder "Rogue One" marketing products created to tie in with the film. Personally, I don't think a Death Star Popcorn Maker is all that odd. Then again, we bought the Death Star Waffle Maker when "The Force Awakens" debuted last year, so what do I know.
The film isn't without its marketing challenges though. "Rogue One" is the first Star Wars film (not counting the theatrical release of episodes of the then-upcoming "Clone Wars" cartoon TV series) that isn't designated as an "Episode" of the ongoing saga. Chris Thilk of AdWeek wrote an interesting piece on how Disney is promoting the first move to bring the extended Star Wars universe (populated for years in books and comics) to the screen.
As MarketingWeek reports, Disney isn't worried about Star Wars marketing fatigue. Their numerous promotional partners don't seem very concerned either. Check out this spot from Nissan for the aptly named Rogue SUV.
Do you have your "Rogue One" tickets yet? We're likely waiting until Christmas break to catch a showing. Here's hoping the force is with us when it comes to avoiding spoilers.
Related Articles:
4 Lessons from Marvel's Movie Successes (And DC's Shortcomings)
 How Branded Entertainment Can Save Advertising