ANA B2B: Black & Decker Gets Emotional, Sentry Sits Down & More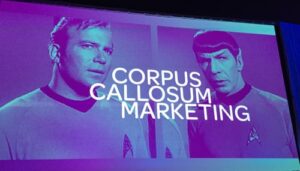 The power of customer engagement, experiences and authenticity were key themes at the recent ANA Masters of B2B conference in Chicago. Here's a recap of some of the highlights.
Stanley Black & Decker Gets the Feels
Passion is key to Stanley Black & Decker's marketing strategy, said CMO Mike Simpson. "People will forget what you said, they'll forget what you did, but they'll never forget what you made them feel. That's a modern customer experience."
When asked how the brand got buy-in from upper management to support marketing innovation, Simpson noted that the company is lucky to have a CEO with a strong vision. "He takes the time to learn and understand," noted Simpson. "He'll stop people and ask them to explain things. He'll say 'you need to educate me if you want me to be your advocate.' That's an extremely brave thing for a CEO to do."
Sentry Takes a Seat
Sentry Insurance set out to rebrand itself, so the 114-year-old brand took a hard look at its logo and realized it's logo—a soldier with a gun—might not be setting the right tone.
It adapted quote marks into the new logo, to signify starting a conversation. As a physical manifestation, it created two comfy blue chairs to bring that spirit to life. Stephanie Smith, chief marketing and brand officer, notes that people hare having a visceral reaction to the chairs, because it so accurately represents the brand. "When something is authentic, you don't have to explain it," she says.
A pair of the chairs were on-stage for the conference that day, and they were very tempting to try to sit in. (For more about the Sentry rebranding, click here.)
Mastering Martech
According to a Stein IAS survey of ANA Masters of B2B attendees, 74 percent of marketers are anticipating increasing their martech spending over the next three years, says Tom Stein, chairman and chief client officer of Stein IAS.
"If we don't use martech to our greatest advantage, we can't be modern marketers," says Matt Preschern, senior vice president, global demand and performance marketing, CA Technologies.
Marketers need to be able to layer technology effectively into their marketing systems, notes Marc Keating, chief innovation officer at Stein IAS. Marketing automation is the heart of that, followed by demand gen platforms, customer data platforms and predictive tools, he notes. Once marketers have all this in place, they can add in other strategic solutions such as video, webinar applications or performance management systems.
"Your data needs to be clean and normalized. Then, you can get more sophisticated and work with predictive technologies," says Keating. "Don't do anything until you get your data house in order."
Of course, at the end of the day, you still need the right staff in place to take full advantage of your investment.
"Technology is our friend, and it is the underlying enabler, but people are still responsible for the underlying connections with customers," says Preschern. "Make sure your people are properly trained. I've seen too many marketing automation systems deployed that are just glorified email marketing platforms because [people don't understand the capabilities."
---
More from ANA Masters of B2B 2018:
---
B2 Award Winners
Campaigns featuring Fearless Girl, risk taking and the PGA took top honors at the B2 Awards, presented during the conference. Here's a recap of the agencies and brands that went home with the big prizes.
Hamilton Connection Sings for BNY Mellon
A few days before the Tony Awards was perfect timing for BNY Mellon global head of corporate marketing Aniko DeLaney to share the bank's story of how it capitalized on founder Alexander Hamilton's pop culture hero status.
"He's the Broadway star of finance," she said of the founding father, whose image and wisdom sparked a campaign that carried across social media and other channels to boost awareness for the bank.
For the complete story, click here.